Deer Park Secondary School underway in Hampshire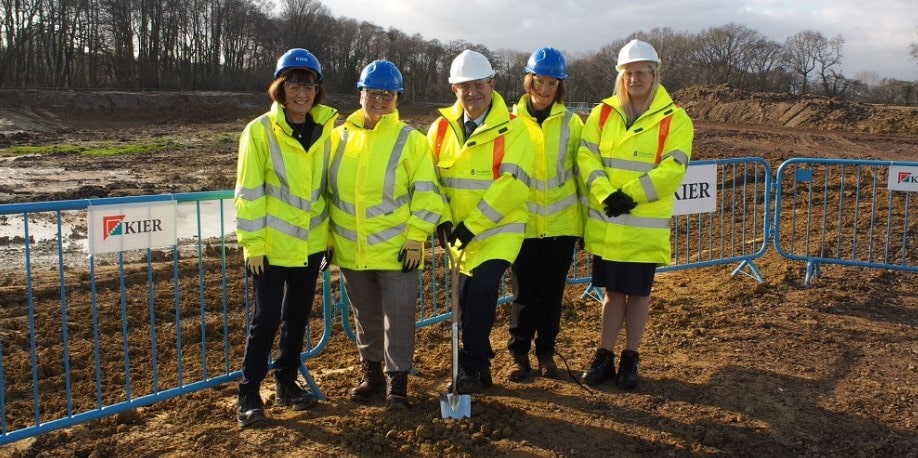 A ground breaking ceremony has taken place in Botley, Hampshire for the construction of a new secondary school named Deer Park, with the ceremony itself being attended by Hampshire County Councillors, members of the Wildern Multi Academy Trust, and the appointed construction project managers.
Specifically, the construction of Deer Park School has been commissioned by a partnership of Hampshire County Council and the Wildern Multi Academy Trust at a cost of £21.2M, with the appointed contractor on the project being identified as Kier.
Construction of the new school is set to be completed in the Autumn of 2021, delivering several new buildings such as a three-storey main school building, a focal point building, and a sports building, which will include the further delivery of facilities like a central triple height atrium, 46 classrooms, a learning resource centre, a drama studio, a food hall, a four-court sports hall, activity studio, and changing facilities.
The Operations Director for Kier Regional Building Southern, Trevor White stated: "We are delighted to be breaking ground on this vitally needed new school. Deer Park is set to be ideally situated in the heart of the community and provide over 1,000 pupils with excellent learning facilities.
"We will deliver this latest school utilising our local supply chain, enabling us to provide training opportunities for those interested in a career within the built environment. We will engage with the local community throughout the duration of this project as we are committed to leaving a legacy in areas in which we build."
Building this new educational institute has been approved by the Department for Education under their Free Schools Programme, while the Wildern Multi Academy Trust will serve as the sponsor for the scheme, providing school places for a total of 1,000 students.
If you would like to read more articles like this then please click here.