Digital Skills for the Construction Industry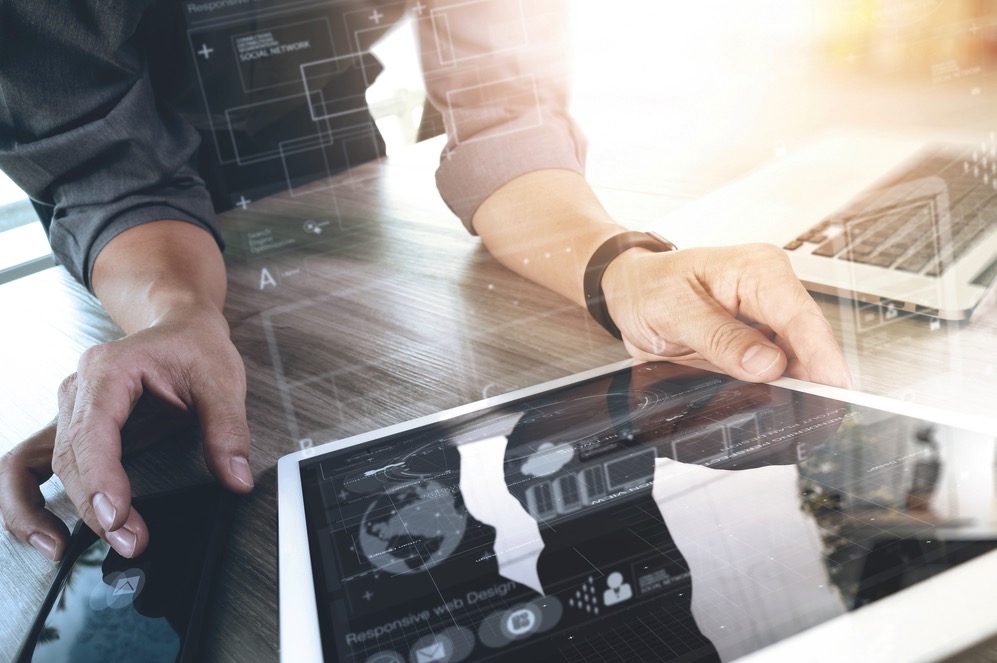 With the advancement of technology, the construction industry must do all that it can to reduce the existing digital skills gap. Richard Anderson at High Speed Training, discusses the importance of gaining valuable digital skills in the construction industry.
There are undoubtedly many benefits that result from reducing this void, including the ability for companies to better attract customers through social and digital media, as well as making recruitment and retention of staff, particularly amongst younger generations, an easier process. Innovation in technology also provides a real opportunity to improve productivity whilst offering a superior level of service and delivery on digital design and architecture.
Across the industry, there has been a large uptake in online training in areas such as Asbestos Awareness, Working at Height, Manual Handling and Health and Safety in the Workplace. Where people may have previously attended face-to-face training courses or learned on the job, they now see the advantages of being able to learn and become certified at their own speed – at a time of their choosing – and by using pretty much any internet-connected device.
The construction industry has traditionally looked at training whereby compliance is the primary motivator. Regular training is necessary to maintain safety standards and, in the case of an accident, demonstrate that measures have been taken to safeguard all members of staff. However, there is a huge opportunity for the industry to develop more well-rounded skills that will keep the workforce motivated, engaged and safe. There's recently been an increasing number of companies using online training to develop their staff in areas such as leadership and communication skills in order to advance the next generation of leaders in the sector. Companies are now also aware of their responsibility for promoting positive mental wellbeing amongst their staff, especially in a sector where stigma still surrounds mental health difficulties. The industry is therefore seeing a demand for Health and Wellbeing training, to ensure all staff are informed on the subject.
Upskilling existing workers is a simple yet effective way to combat the skills gap. Forward-thinking construction companies are now starting to understand the benefits of keeping staff engaged throughout their careers, and progression has become just as important to staff as their weekly wage. So, in an industry where staff retention is vital, training should be high on the list of priorities when it comes to creating personal development plans for employees.
With digital technology now being pervasive in most people's daily lives, the construction industry is having to adapt in order to avoid being left behind or obliged to face sudden disruption. As with other industries that are not immediately synonymous with the rapid adoption of digital technology, the advantages of acceptance and the disadvantages of being left behind are clear: competitors with technological expertise may enter the market and potentially squeeze out those more-traditional contractors and suppliers. Those most likely at risk of being pushed out are small firms, as they will struggle to recruit people with the relevant technical know-how.
This is particularly the case when it comes to attracting new recruits, specifically school-leavers, who may consider a traditional contractor role to be an 'unglamorous' career path to follow. However, whilst the construction industry may have previously been thought of as laborious and difficult work, there is now a wealth of opportunities for tech-savvy youngsters. Core capabilities in IT and maths are the skills that the construction sector needs to be encouraging. In order to tackle the digital skills gap, it's vital that the construction industry builds strong partnerships with schools across the country in order to provide relevant careers guidance and to promote the uptake of sector-related subjects at GSCE and A-Level. Training companies can also play a key role in this by offering employability skills and promoting apprenticeship opportunities, both through traditional face-to-face training and online.
If this is done well, the advantages are there for employers, individual workers, consumers and the industry as a whole, allowing the UK to better compete globally and continue to export construction expertise. This is particularly important in the current climate, with regard to the impending question of Brexit. If Britain is going to continue to create opportunities after Brexit, then there may be a need to quickly train and develop British construction workers in order to fill any potential gaps left behind by large numbers of European workers who currently fill key roles across the country. If a coherent strategy is not in place by point of exit, then the existing skills gap issues will simply be compounded.
High Speed Training is a leading online training provider that supports lifelong learning by providing accessible digital training to help individuals and businesses pursue their career goals. The company is the expert authority on personal development and compliance in the construction sector.
If you would like to read more articles like this then please click here.