Kier Secure New School Projects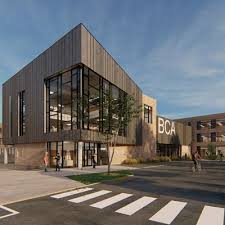 Kier has secured £170 million of new school projects throughout England and Wales. In line with the UK Government's mission to improve school buildings, the 13 schemes will be a combination of new buildings and refurbishment projects providing first-class facilities for 11,304 pupils.
In the last ten years, Kier has delivered more than £50 billion of educational facilities, including provision of 1,200,000m2 of new space for 163,874 pupils under the Department for Education construction frameworks. Kier are to utilise its extensive knowledge and put quality and innovation at the forefront of the projects, which include new builds Addington Valley, a new SEN school in Croydon and Barton Court Academy, a new free school in Canterbury.
In Bournemouth, Kier will transform a former police station, magistrates' and coroner's court into a STEAM specialist all-through school. In Milton Keynes the company will deliver a £18 million new build block which will include teaching space for science, design technology art and ICT for Stantonbury International School. A major refurbishment programme will be carried out at Park Hill Junior School in Croydon, while in Wales, four new school projects will provide much-needed school places for the city of Swansea.
Andrew Davies, Chief Executive of Kier, stated: "Through our delivery of these vital new school buildings, we will provide critical infrastructure and support the Government's aim of laying the foundations for everyone to have the opportunity to succeed.
"As a leading provider of educational buildings, we will use our expertise to deliver with a firm focus on quality, reducing carbon emissions and innovative solutions, through digitisation and modern methods of construction."
Kier is committed to building sustainable futures for local communities, and aims to continue maximising training opportunities through these schemes.
The 13 school projects are:
Addington Valley, Croydon
Bishopston School, Swansea
Barton Court Academy, Canterbury
Dover Grammar School for Boys, Dover
Haberdashers' Aske's Hatcham College, London
Harris Academy Clapham, London
Livingstone Academy, Bournemouth
Park Hill Primary, London
Stantonbury International School, Milton Keynes
Tan-Y-Lan, Swansea
Whipton Barton, Exeter
Ysgol-Y-Graig, Anglesey
Ysgol Gyfun Gwyr, Swansea
If you would like to read more like this, then please click here