Construction industry out in force at Manchester Pride this weekend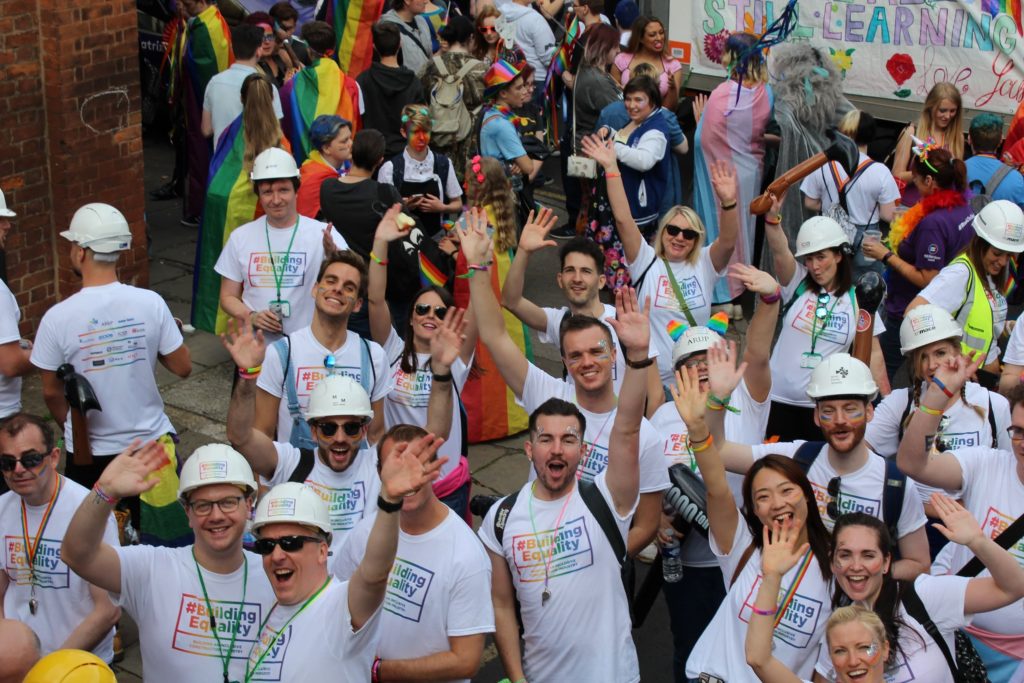 An alliance of construction companies working to build LGBT+ inclusion will together deliver the biggest show of equality, diversity and inclusion the North West construction sector has ever seen at Manchester Pride this weekend.
Now in its second year at Manchester Pride, the alliance – known as Building Equality – has doubled in size since 2017; with even more senior leadership visibility than ever before and over 100 representatives from 18 different organisations taking part.
On Friday 24 August between 8am and 7pm at Exchange Square in Manchester, the public is invited to find out more about the work Building Equality is doing to make construction a more diverse and inclusive sector, in addition to discussing careers and opportunities.
Then, in Saturday's weekend showcase celebration, Building Equality will be joined by sponsors; Flannery, A-Plant and Hays to march together alongside the rainbow JCB to boost awareness of LGBT+ employees working in the construction industry.
Building Equality is comprised of representatives from construction consultants, engineers, developers and contractors who are passionate about working together and harnessing their collective power to drive LGBT+ inclusion in the construction industry.
According Luke Ives, Chair of Manchester Building Equality and Co-Chair of the Balfour Beatty LGBT+ & Allies Network: "Building Equality is paving the way for an open and inclusive industry, which promotes discussion on equality, diversity and inclusion – opening channels for issues and opportunities to be acted upon. Allowing all in the construction industry to be their true selves benefits everyone – not only to attract and retain the best talent but by providing access to a wide range of perspectives, encouraging creativity and improving performance."
John Doyle, Co-Chair of Manchester Building Equality and RICS North-West Regional Board Member added: "Everyone has the right to come to work and be their very best selves. No one should ever have to hide who they are, or accept discrimination. Building Equality provides a platform to show future generations that line the streets of the parade route, that you can be whatever you want to be, and not just be proud, but be fully supported and respected within the construction industry here in Manchester."
If you would like to read more articles like this then please click here.