Material & Staff Shortage Hold Back Construction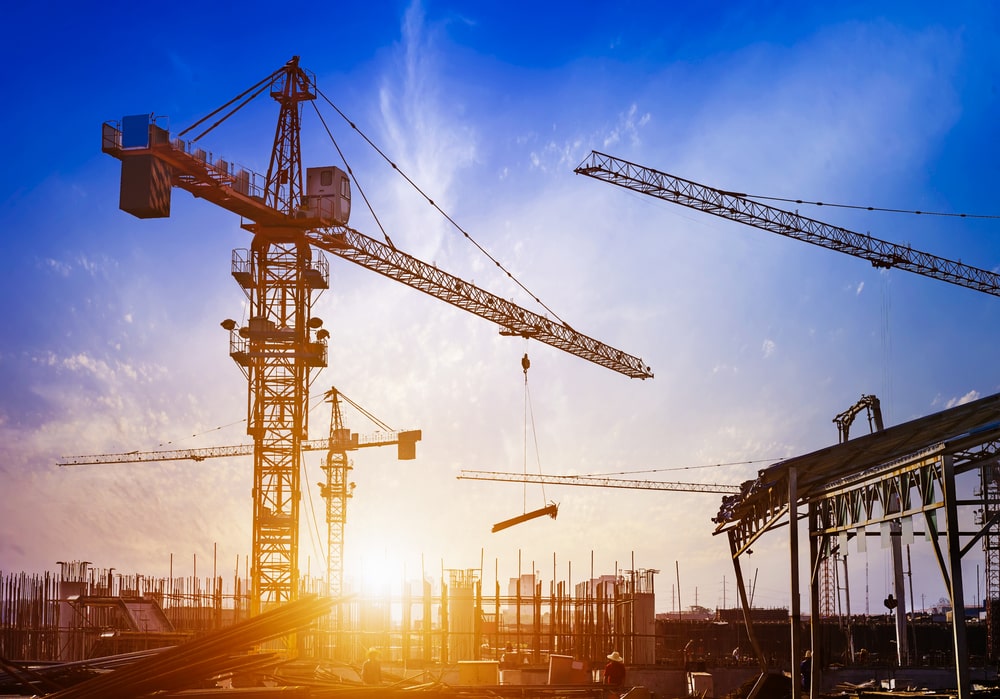 According to September's data from the IHS Markit / CIPS UK Construction PMI survey, there has been a growth slowdown within the construction sector. Output volumes have risen by the smallest extent in eight months, which partially reflected the softer demand conditions than the peak seen earlier in the summer.
A rapid drop in sub-contractor availability was also reported in September. An imbalance in demand and supply also contributed to the steepest rise in sub-contractor charges since the ISH Markit/CIPS UK Construction PMI survey began in April 1997. As well as this, some firms noted that the unpredictable pricing environment had slowed clients' decision-making when came to new orders, as well as leading to delays in contract awards.
At just 52.6 in September 2021 ‒ down from 55.2 in August 2021 ‒ the headline seasonally adjusted IHS Markit/CIPS UK Construction PMI Total Activity Index dropped markedly below the 24-year high of 66.3 in June. This latest reading signalled only a moderate expansion of total construction output and the weakest speed of recovery for eight months.
All three broad categories of construction activity saw a loss of momentum in September, with the biggest slowdown seen in civil engineering (51.0, down from 54.8 in August).
Housebuilding declined in September, with the latest expansion being the weakest since recovery began in June 2020 (52.8), leaving the commercial segment (53.6) as the best performing category during September 2021. The resilience seen in this sub-sector reflected a continued boost to order books from the reopening of the UK economy.
Construction companies recorded a moderate increase in new work during September, with the rate of growth easing sharply to its weakest since the start of 2021. This slowdown was linked to hesitancy among clients and less favourable demand conditions.
A lack of sub-contractor availability added to the squeeze on labour supply in September. Shortages of sub-contractors also led to additional cost pressures, with rates charged for sub-contracted work increasing at a survey-record pace.
Meanwhile, the latest survey illustrated that construction firms remained highly upbeat about the business outlook. Just over half (51%) forecast rising output, while only 8% anticipate a decline. However, the degree of confidence was weaker than August amid some concerns that the supply chain crisis will hinder growth.
Tim Moore, Director at IHS Markit, which compiles the survey said: "September data highlighted a severe loss of momentum for the construction sector as labour shortages and the supply chain crisis combined to disrupt activity on site.
"The volatile price and supply environment has started to hinder new business intakes as construction companies revised cost projections and some clients delayed decisions on contract awards. As a result, the latest survey data pointed to the worst month for order books since January's lockdown.
"Shortages of building materials and a lack of transport capacity led to another rapid increase in purchase prices during September. There was also a considerable decline in the availability of sub-contractors, with survey respondents citing shortages of bricklayers, drivers, groundworkers, joiners, plumbers and many other skilled trades. Measured overall, prices charged by sub-contractors increased at the fastest rate since the survey began in April 1997."
Commenting on the IHS Markit / CIPS UK Construction PMI, Jan Crosby, Head of Infrastructure, Building and Construction at KPMG UK, said: "Global supply chain delays, lorry driver shortages and the demand on fuel are causing havoc here for the UK's construction sector, which is having to navigate these challenges alongside managing pent up pressure for builds.
"While some companies have been agile enough to handle these issues by stockpiling or widening their sourcing net, others have understandably struggled, which has led to projects being cancelled or delayed. That's why another month of slow growth is to be expected given the circumstances.
"The sector is in desperate need of a rebalance. But for now, the industry is impressively responding to these complicated conditions."
Gareth Belsham, Director of the national property consultancy and surveyors Naismiths, commented: "The perfect storm that had been brewing for several months has finally broken over the construction industry.
"Serious shortages of key materials and skilled workers have been pushing up prices and increasing delays since spring.
"But in September the fuel crisis threw a further spanner in the works, preventing both staff and deliveries from getting on site.
"On the construction front line, things are far more serious than the 'stresses and strains' the Prime Minister says are a normal side effect of rapid growth.
"There are worrying signs that the supply side issues are starting to crimp demand too. According to September's PMI data, output growth has slowed to its slowest pace for eight months, and the number of new orders coming through the door has shrunk to its lowest level since the start of the year.
"Cool heads in the industry have seen this all before, and experienced developers and builders are recalibrating prices and schedules and getting on with it.
"But things are getting steadily tougher and while there's still plenty of optimism in the industry, the summer's easy boom times are firmly in the rear-view mirror."
Fraser Johns, Finance Director at Beard said: "Today's stats show the construction sector is still being significantly hampered by labour shortages and supply chain issues.
"With output volumes rising by the smallest extent for eight months, and a rapid drop in sub-contractor availability, strong relations with suppliers have never been more critical.
"To build these relationships and to reassure clients, contractors need to ensure prompt payment and regular collaboration with suppliers is fundamental to all projects.
"Inflationary price pressures and supply shortages continue to hinder new business, with clients re-considering decisions in the current environment.  This may continue until such pressures begin to ease, a time period which is still unclear."
Joseph Daniels, CEO and founder of modular housing and technology company Etopia Group, and also an independent adviser to the Government on decarbonising the construction industry, said: "Rising prices, a shortage of materials and a lack of skilled workers are creating the perfect storm for a slowdown in growth in construction. But this doesn't go to say that the sector is lacking confidence, with positive sentiment underpinned by hopes of an expected rise in new contract awards across all subsectors.
"As the global economy gets back on its feet, formidable supply chain pressures are to be expected. And in the face of such problems, UK housebuilding has once again shown its resilience, coming in as the second best performing broad category of construction output in August.
"Tighter supply chains mean that the UK's construction industry now has to reflect on how it uses, and discards, of waste. Latest figures from the Department for Environment, Food and Rural Affairs reckon that in 2018, construction accounted for an astonishing 62 per cent of the UK's total waste. Innovation will be key in solving this by providing a means to which companies can precision-engineer homes along production lines using the exact amount of materials required for each build. Much like car manufacturing, MMC uses standardised processes, so every single home that is created in factories such as ours uses the exact same amount of materials. Technology will help drive such efficiencies ‒ it's time construction embraced it."
Ian Cooper, Director at global legal business DWF, commenting on the IHS Markit / CIPS UK Construction PMI for September 2021 said: "The September data shows another slowdown in growth in the construction sector, with output volumes rising to the smallest extent for eight months. Understandably, some construction businesses may be holding off on construction decisions until the market conditions show some signs of stability.
"On the flipside the confidence of construction firms remains high and this is good news for job seekers as the demand for skilled labour is relentless.
"Aligned with the current experience of other industry sectors, skilled labour supply chain issues remain a challenge for construction. However, this also reveals opportunities for increased productivity initiatives such as pre-fabricated / off site construction."
If you would like to read more stories like this, then please click here