Plans Submitted for New Business Park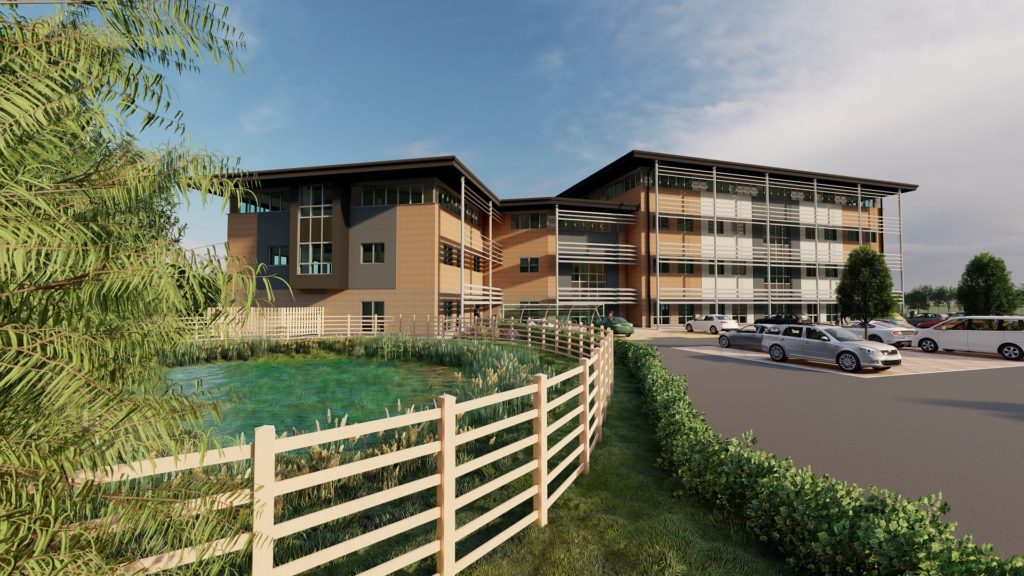 Plans for the first phase of a 10-acre business park next to Worcestershire Parkway Station have been submitted by Godwin Developments.
The business park, which is located in Woodbury Lane, Norton, Worcestershire, will see its first stage comprise of 2.5 acres of land transformed into two office blocks, totalling over 40,000 square feet of grade A office space, and will include more than 120 private car parking spaces.
The new development will also benefit from first class rail connectivity due to its prime location beside the new train station, meaning it will also have direct routes into Central London, Birmingham, Cheltenham, Bristol, and Cardiff. Located just one mile from J7 of the M5, it will also have easy access to the UK's extensive road network, and, will have fast transport connections to Birmingham and Bristol Airports.
Matt Chandler, associate director at Godwin Developments said: "The Midlands has always been a major business hub for the UK, with Worcester playing a significant role in providing high-quality space for occupiers, as well as unparalleled connectivity to the west of the UK. It is home to several nationally renowned businesses and large multinationals – making it the perfect location for this major commercial development.
"SME growth in Worcestershire has been particularly robust in the last few years and with the supply of new office space being very limited, it has resulted in high demand from occupiers who want to remain, grow and move to the county. This is particularly true for the corridor of land around the M5, which has attracted most of the office and commercial developments. Our Norton site is seeking to take advantage of this trend and we are confident that the demand for good quality, newly built office space in the area will rebound strongly in the future."
The scheme is part of the wider South Worcestershire Development Plan Review, which will also see the creation of a brand-new town at Worcestershire Parkway, and will deliver 5,000 new homes by 2041, it also includes 50 hectares of employment land to attract and support business in the local area.
Mr Chandler added: "The ambitious vision for Norton and beyond, outlined in the Review of the South Worcestershire Development Plan and the proximity to the new Worcestershire Parkway Railway Station, is a significant boost for our development, which will not only contribute to new office stock availability but also deliver local jobs to the newly created community.
"We have worked closely with IMA Architects to design a scheme that will fit well into the local landscape and are grateful for the support of development partner Stennard Harrison. We look forward to collaborating with Wychavon District Council to transform our exciting plans into reality."
If you would like to read more articles like this, then please click here