RMD Kwikform Solution Takes the Load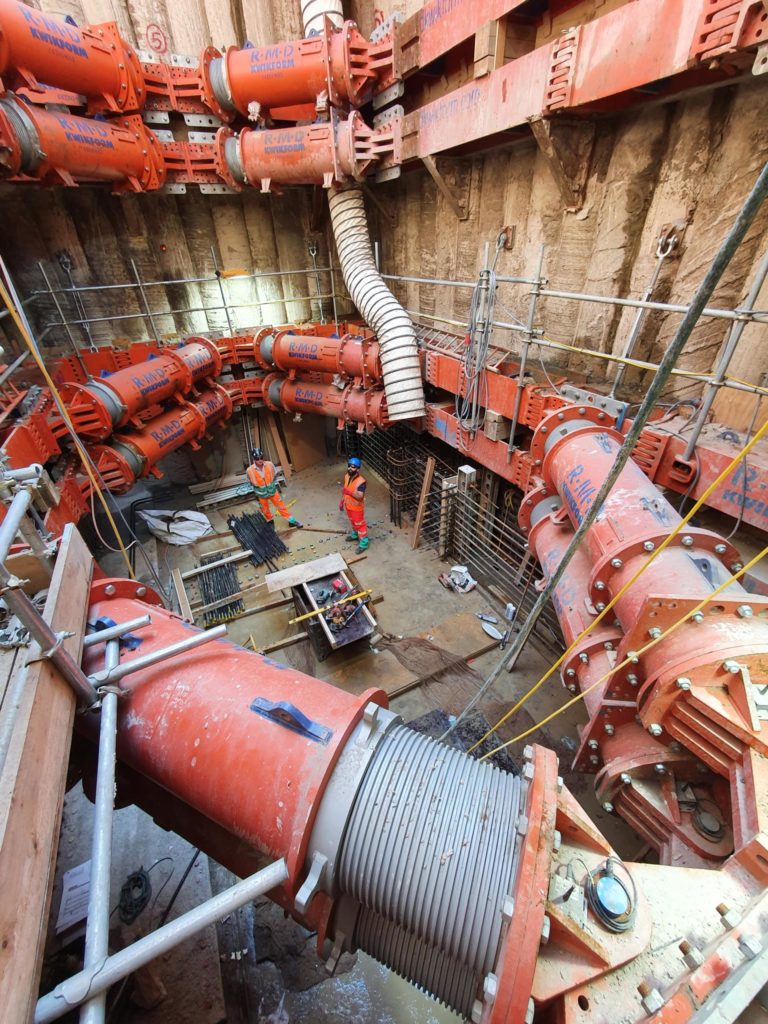 RMD Kwikform has played a key role in the construction of the new Thames Tideway Tunnel by supplying its innovative ground-shoring products to help support the excavation of a 16.5m deep interception chamber, positioned underneath the course of the River Thames.
The Tideway project, known as the "super sewer", will prevent raw sewage from entering the Thames when there is heavy rainfall. The existing and mainly Victorian sewerage system overflows into the river and struggles to accommodate the burgeoning population of London. The 25km sewer tunnel will span from Action in West London to Beckton in the East and capture sewage overflows which would otherwise spill into the Thames.
One of the main construction sites on this project is at Chelsea Embankment Foreshore. The project being led by the Ferrovial Constrction and Laing O'Rourke (FLO) JV the central section of the project includes the excavation of a 16.5m deep interception chamber, which is positioned under the River Thames, which will aim to divert sewage for the existing sewer system.
To support the construction of the chamber, RMD Kwikform has worked with FLO JV to engineer a heavy-duty propping system to support the retaining walls of the excavation. Groundwork's equipment provided includes 610 diameter steel props (RMDK's Tubeshor 610) and a 550 bespoke section waler system (RMDK's GeoBrace 550).
Ajay Nagah, Engineering and Major Projects Manager (Ground Shoring) at RMD Kwikform, said: "We entered the frame relatively late in the design cycle where a traditional fixed structural steel solution had already been developed – which is usually the case with a job of this depth and duration. We, therefore, had to match or exceed the performance of the existing solution to prevent time delays from significant re-designs and checks, whilst incorporating new features that would pose unique benefits to the site team.
"One such feature was the 'hybrid' hydraulic unit of the Tubeshor 610 props that telescopically extends to pre-load supporting members before being isolated mechanically. The hybrid ram ensures that all loads are transferred through the steel element of the prop only – providing high axial stiffness whilst mitigating the risk of hydraulic squash or failure whilst subject to high loads. All without the need for on-site welding."
Other services offered to this project were 3D modelling and wireless load monitoring; with the latter giving an indication of actual prop behaviour compared to theoretical design values.
RMD Kwikform's visualisation software, LocusEye, also proved to be a useful tool for on-site discussions.
Matthew Wiseman, Divisional Digital Innovation Manager at RMD Kwikform, said: "Traditionally we could only share and view 3D models on PC, which limited usability to offices only. LocusEye allows us to provide a realistic 3D model of the temporary works, which can also be viewed on a smart/mobile device. This allows us to provide user-friendly navigation, augmented reality features, and the relevant product information/animations when we click components."
John Breen, Commercial Director at RMD Kwikform, concluded: "We are incredibly proud to be partners with FLO and Tideway on this prestigious project and welcome anyone to visit our premises and witness our offerings and capability first-hand."
If you would like to read more stories like this, then please click here