UK Construction Week hosts the UK's biggest construction education programme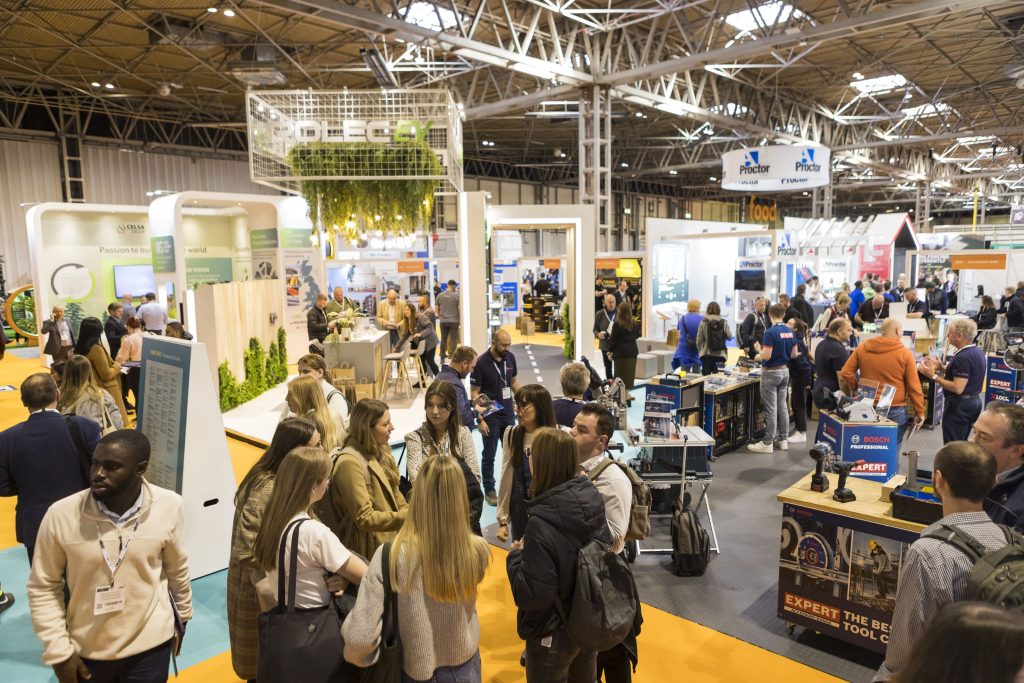 UK Construction Week Birmingham has announced its extensive educational Hub programme for its event this autumn, which includes over 150 CPD hours across the three days.
Running from October 3rd-5th at the NEC, the three-day construction show will hero culture change in construction, and will feature over 6,000 products and services.
With nine hubs located across nine show sections, UKCW Birmingham is a unique opportunity to hear from industry leaders, learn about the new wave of building methods, safety regulations, sustainability, digitalisation, mental health, EDI and more.
Speakers and topics available throughout the show include:
Sustainability Hub – The heart of Timber Expo. The hub programme will tackle the issues, layout strategies and case studies to help the sector reach its net zero targets. Create a 'Roadmap to Net Zero' and ensure your business knows how to move forward by joining the sessions below:
Thursday 5 October
Inclusive design expands
13:15 – 14:00
Speaking: Alex Tait, Director of Practice and Individual Knowledge – RIBA. Pareisse Wilson, Design Strategy Lead – Motionspot. Jenny McLaughlin, Project Manager – Heathrow
Infrastructure Hub – Sponsored by Conquip Engineering Group, explore the latest innovation and industry leadership covering a wide range of topics such as roads, rail, airports, tunnels, bridge and systems for water supply and sewage treatment. Don't miss:
Tuesday 3 October
Taking rainwater reuse from peripheral to mainstream
14:15 – 15:00
Speaking: Neil Sewell, Director of Technology Systems – SDS
Digital Construction Hub – Delve into key topics surrounding the digitalisation of the construction sector, in partnership with Build In Digital. Conversations will look into how A.I. will transform construction, the metaverse, robotics, building safety, cyber security and the golden thread. Highlights include:

Tuesday 3 October
Digitise to Decarbonise
12:15 – 13:00
Speaking: James Franklin, Digital Construction Lead – Kier
Thursday 5 October
Building the Future: Ecommerce and Digital Transformation in the Building Supply Industry
14:15 – 15:00
Speaking: Simon Wharton, Co-Founder – PushON
CPD Hub – Professionals with all levels of experience can improve their knowledge and get to grips with best practice and latest regulations. Check out:

Are we talking about mental health or are we talking about life?
11:45 – 12:30
Speaking: Anita Malster, Chief Executive Officer – Blossom Mental Health Training
Five things to look for in fire doorsets to improve long-term safety
12:45 – 14:30
Speaking: Mike Shannon, Business Development Manager – JELD-WEN UK
Culture Change Hub – In partnership with NFB and supported by Building People, this popular hub will focus on improving employee wellbeing, better inclusivity within the built environment and tackling work-life balance, mental health & diversity. Check out some of the top sessions:
Tuesday 3 October
Keynote on inclusive behaviours – Sponsored by CITB
11:20 – 11:50
Speaking: Marsha Ramroop, Executive Director: Equity, Diversity & Inclusion – Building People

Wednesday 4 October
EDI for all: making diversity, equity and inclusion everyone's responsibility – In partnership with the NFB
10:30 – 11:15
Speaking: Laura Bradley, Marketing Manager – Flannery Plant Hire. Gina Connell, Chief Marketing Officer – B P Collins LLP
Nathan Garnett, UKCW show director explained: "The industry is rapidly and ever-changing. UKCW strives to not only inform our visitors but educate them too. We have a strong and innovative seminar and speakers programme this year and we are proud of the diverse subjects on the agenda."
To view the full seminar programme and book your places at the seminars, visit UKCW seminar programme
Register for UKCW for free now UKCW Birmingham Registrations