Upgrade on Westwood Roundabout Completes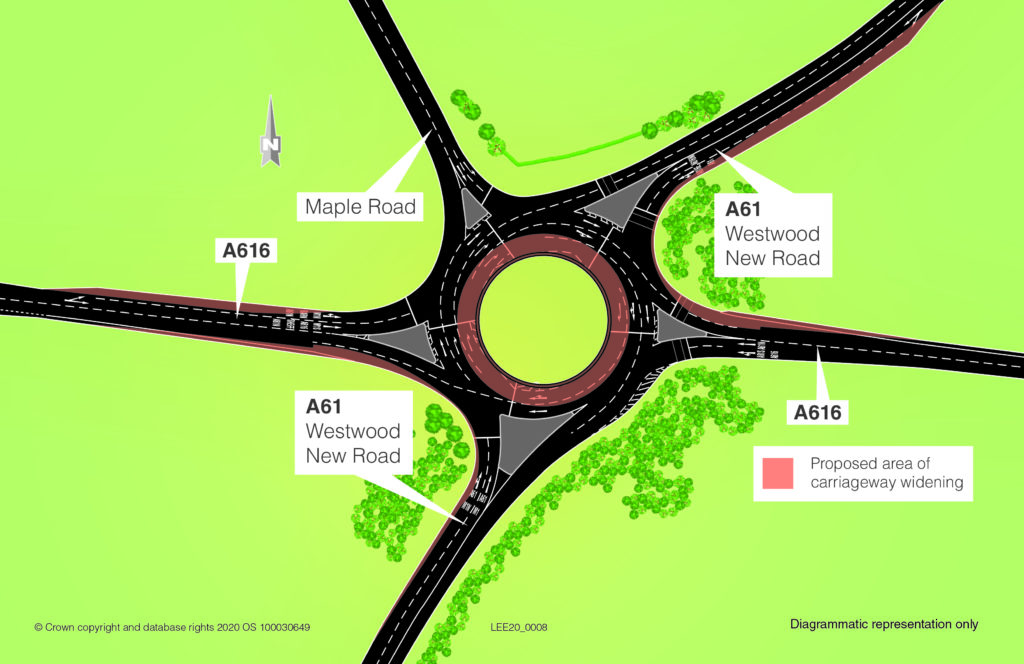 Major improvement works to help the flow of traffic and increase capacity at a key Yorkshire roundabout have completed.
Highways England is investing £18.6 million in improving the A628, A61 and A616 corridor to create better journeys and improve safety for thousands of drivers. Amongst the updates are enhancements to Westwood roundabout in Tankersley, South Yorkshire, improving the journey time between Manchester and Sheffield, and for drivers along the A61 and A616.
Highways England Project Manager Emma Simpson said: "Our multimillion-pound investment into Westwood roundabout will improve journeys and the safety of thousands of drivers who use the route every day.
"By carrying out these improvements congestion will be eased through this vital roundabout.  We'd like to thank everyone for their patience throughout the work."
The company is investing £27.4 billion on the road networks, as described in the Government's Road Investment Strategy.
The latest improvements at Westwood roundabout include the completion of:
an extra lane added to some of the approaches as well as the roundabout itself
new pedestrian crossings on the A61 exit heading north and the A616 exit heading east
laying 9,524 square metres of resurfacing
installing 19 new streetlights and 32 new traffic signals
installing 469 metres of new drainage, 472 metres of new/improved safety barrier and 986 metres of new kerbing.
Peter Molyneux, Major Roads Director at Transport for the North, said: "The completion of the Westwood roundabout upgrade is an important milestone as part of a package of measures to improve east-west connectivity between Sheffield and Manchester.
"This wider work is critical to supporting economic growth opportunities in the area and helps to drive forward the levelling up agenda."
Moving further west, Highways England is carrying out schemes along the A628 (Woodhead Pass) and A616 to improve safety and provide better and more reliable information for drivers.
The safety barrier at Salter's Brook along the A628 will be upgraded in the spring, as well as drainage improvements around the Stocksbridge area of the A616.
Stabilisation work between Crowden and Tintwistle (A628) is progressing well and expected to finish in April. The majority of this work is being carried out using 24/7 temporary traffic lights, with a full weekend closure and five weekday overnight closures needed to complete excavation and piling work.
To improve journey reliability and provide drivers with up to date, real-time information, Highways England has been installing infrastructure along the A57, A628, A61 and A616 since October 2020 to allow for new variable message signs to be introduced. This work is due to finish in the summer.
All Highways England sites have strict safeguarding measures, in line with Public Health England guidance, to prevent the spread of COVID-19 and none of the sites are open to the public.
If you would like to read more stories like this, then please click here