Vaillant Improves Efficiency and Sustainability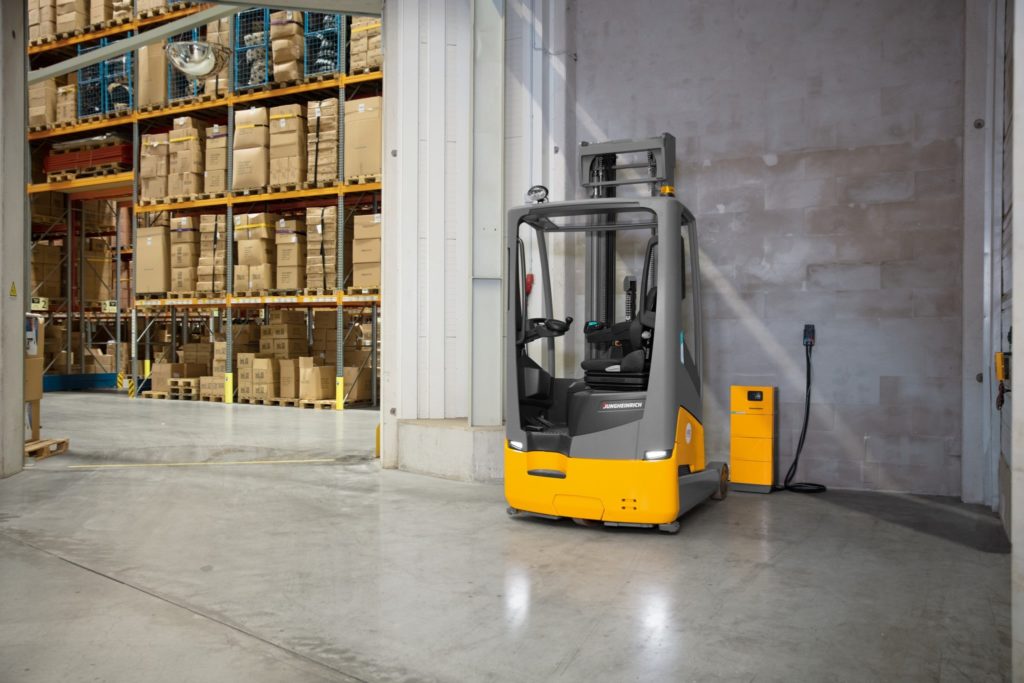 Vaillant Industrial, part of the Vaillant Group, has struck a partnership with Jungheinrich UK to deliver an optimised materials handling fleet along with updated warehousing systems to support continued business growth.
In addition to requiring a fully upgraded and renewed warehouse fleet, one of Vaillant Group's priorities is focusing on sustainability, aligning with the overall business objectives to design and deliver manufactured products and systems which use renewable energy.
With an aim to move to more sustainable tech solutions that will help support plans to become a carbon neutral pant by 2025, Vaillant is working in partnership with Jungheinrich to introduce a new 26 vehicle lithium-ion fleet into its operations. This new fleet involves a combination of ETV 2126i reach trucks, along with conventional counterbalances, increasing the capacity of some of its larger trucks from 2.5 tonnes to 3.5 tonnes to cater for the pressed steel works and tools.
The rapid interim charging times offered by lithium-ion powered trucks enable a virtually continuous operation of fleets on a 24×7 basis with no dangerous gases or acids emitted, meaning that charging stations equipped with expensive and toxic exhaust systems are no longer necessary. Manual handling is reduced too, with no need for frequent battery changing for charging, giving Vaillant increased uptime to meet high demand at a greater speed. This also provides Vaillant with the opportunity to eliminate the need for spare batteries during changeover and reduce the overall fleet size by two trucks because of lift opportunity and charging availability.
Adrian Ancliff, Head of Production Logistics and Scheduling at Vaillant Industrial, said: "We are delighted to be working with Jungheinrich – the incorporation of lithium-ion trucks is incredibly important to our sustainability goals and we have been extremely impressed with the overall energy savings and efficiency we stand to gain. Not only will lithium-ion-powered vehicles provide huge sustainability benefits in terms of energy efficiency and carbon reduction, the transition will also reduce the health and safety risks associated with the removal of lead acid batteries, which is another huge bonus for us. We're very pleased to be doing our part to reduce our carbon footprint and we are confident that we've purchased the best fleet on the market."
As well as the new fleet, Vaillant has taken full advantage of Jungheinrich's Power By The Hour initiative, a flexible and transparent way to rent forklift trucks that allows warehouse operators to only pay for the hours used. This means Vaillant can have commercial flexibility when they have a spike in demand, short-term peaks or another truck requires servicing.
Neil Warren, Region One Business Director at Jungheinrich, commented: "We are delighted to support Vaillant in improving its warehouse efficiency from both an economical and environmental perspective. Lithium-ion technology offers tremendous benefits in terms of efficiency and productivity gains, as well as supporting crucial sustainability efforts, so it's great to see Vaillant taking advantage of this.
"Working closely with Vaillant to provide a fully integrated and combined system which completely optimises their warehouse operations and delivers energy efficiency in line with the company's sustainability goals is extremely important to us and we look forward to our continued partnership with Vaillant as it enjoys the benefits of the new system."
If you would d like to read more stories like this, then please click here