Wokingham SEND School Moves Forward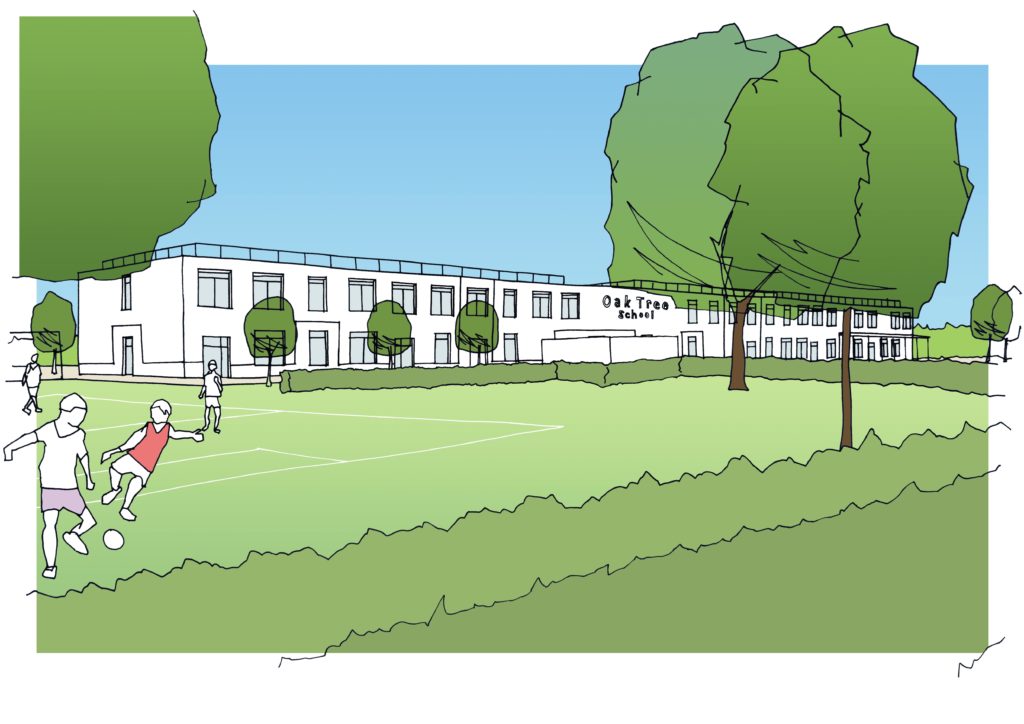 Plans for a special needs and disabilities (SEND) school in Winnersh are set to move forward with HLM Architects and specialist off-site main contractor Reds10 being appointed to the build.
The new Oak Tree School will accommodate 150 pupils in the area and is being set up by the Maiden Erlegh Trust. The school will be specially designed for pupils with a Social, Emotional and Mental Health and/or Autism Spectrum Condition diagnosis.
It is set to be the third school that HLM Architects and Reds10 have worked on together via the Department of Education's (DfE) Modern Methods of Construction (MMC) Framework which launched in 2020. This appointment follows on from a successful mini-competition to DfE contractors.
The school is set to open in September 2022. It will operate as a Special Free School and will be accountable to the DfE. The primary and secondary school areas will be segregated internally and externally, to ensure pupil safeguarding, along with dedicated group rooms and toilets off the primary classroom suite. The facility will feature 'Get Ready to Learn' spaces and a life skills area, resembling a residential studio flat layout and fitout.
The school is set to be delivered in partnership with Brighter Futures for Children, which provides education services in Reading and is to be built on land at Winnersh Farm in Wokingham Borough, which is owned by Wokingham Borough Council (WBC). Working in partnership with Reds10, 85% of the facility is being constructed off-site, which enables the team to deliver in a tight timeframe.
Sal Thirlway, Wokingham Borough Council's Assistant Director for Children's Services, said: "We're incredibly pleased to see this project moving forward. It's a fantastic opportunity to help local children access the specialist education they need without having to travel out of borough. Something that puts so much pressure on families and stops them being able to access the full range of school support and activities. Being able to provide this here in Wokingham is a real achievement and something so many people will benefit from."
Ashley Pearce, Reading Borough Council's Lead Councillor for Education, said: "The number of children with SEND has increased significantly in Reading over recent years, as is the case in neighbouring authorities. It is really important we develop partnerships like this one so that more Reading children can receive the specialist education they need closer to home."
Paul Ruddick, CEO of Reds10, said: "On this project, we are working to an important deadline due to the shortage of SEND pupil places currently available in the area. Constructing this new school facility off-site will ensure a much quicker delivery time, providing a high quality, low maintenance building that is delivered in a sustainable way. We are pleased to be working with Wokingham Borough Council and HLM Architects on another important project for the local community."
Claire Wakelin, London Studio Director, HLM Architects, said: "We are looking forward to once again partnering with the Reds10 team to progress this high-priority SEND school scheme for Reading and Wokingham Borough Councils. This project expands on our recent success of delivering state-of-the-art SEN accommodation innovatively using off-site construction, for Wokingham at Addington School and a new SEN school for the London Borough of Havering. The final design will create a happy, safe, and healthy environment where pupils with complex learning needs will be able to develop communication skills and independence while learning and achieving."
If you would like to read more stories like this, then please click here