World's first liquid air energy storage plant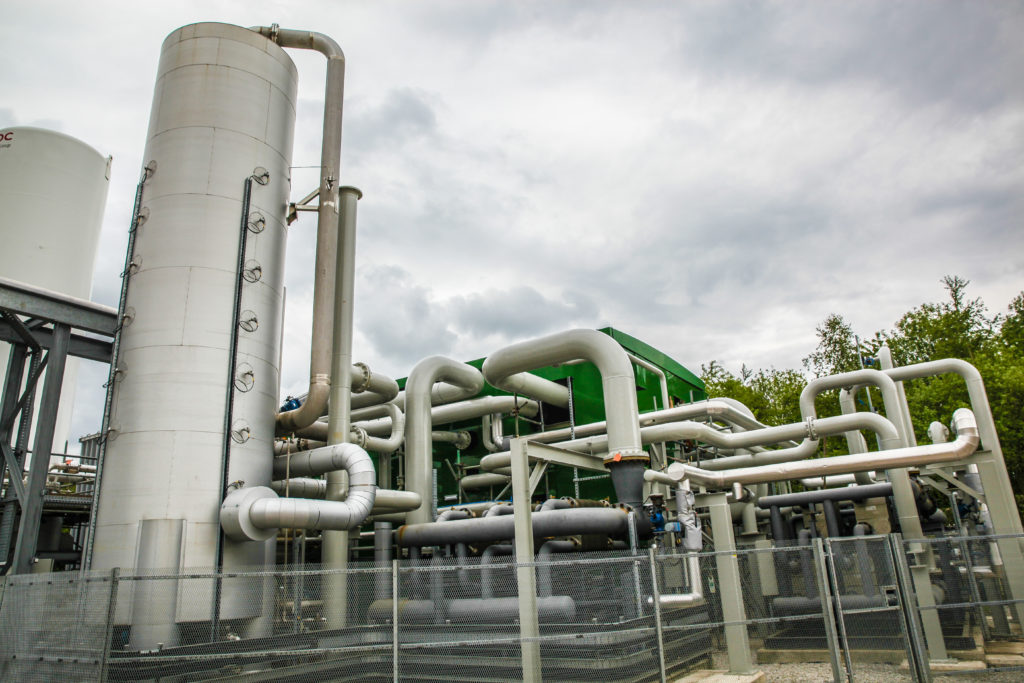 Bury, Greater Manchester is the site of the world's first grid-scale liquid air energy storage (LAES) plant.
The 5MW/15MWh LAES plant became the first operational demonstration of LAES technology at grid-scale when it was switched on by Professor John Loughhead OBE FREng FTSE, Chief Scientific Adviser at the Department for Business, Energy and Industrial Strategy (BEIS), last week.
Developed in partnership between Highview Power and recycling and renewable energy company, Viridor, the LAES plant has been made possible with some £8M in funding from the UK government.
Located at the Pilsworth landfill gas site in Bury, the LAES plant uses technology to create energy from a freely available resource, air. The air is stored as a liquid and then converted back to a gas, involving an expansion process that releases stored energy, which drives a turbine to generate electricity. In addition to providing energy storage, the LAES plant at Bury converts waste heat to power using heat from the on-site landfill gas engines.
The process is incredibly clean, releasing no carbon emissions, and using no exotic metals or harmful chemicals. Construction of the plant comprises mainly in steel, with a lifespan of between 30 to 40 years, in comparison with ten years for batteries, which can be recycled once the plant is decommissioned.
LAES plants are also highly flexible, they can be deployed to the point of demand meaning they are able to supply energy directly to the areas that require it, helping urban areas keep the lights on.
Professor John Loughhead, Chief Scientific Advisor at BEIS said: "We welcome the accomplishment of Highview Power, working together with their project site partner Viridor, to successfully build and operate this grid-scale liquid air energy storage technology demonstration plant.
"The deployment of smart, flexible technologies, such as energy storage, will help to ensure the UK has a secure, affordable and clean energy system now and in the future in keeping with the priorities within UK Government's Modern Industrial Strategy.
"We're pleased to have been able to support the Pilsworth demonstrator through our Energy Innovation Programme aimed at accelerating the commercialisation of innovative clean energy technologies and processes."
Gareth Brett, CEO at Highview Power, said: "Support from Government, our partners and our supply chain, has enabled Highview Power to successfully design and build the world's first grid-scale LAES plant here in the UK. The plant is the only large scale, true long-duration, locatable energy storage technology available today, at acceptable cost. The adoption of LAES technology is now underway, and discussions are progressing with utilities around the world who see the opportunity for LAES to support the transition to a low-carbon world."
Watch a video of the plant here.
If you would like to read more articles like this then please click here.