Tackling the skills shortage with the Construction Skills Fund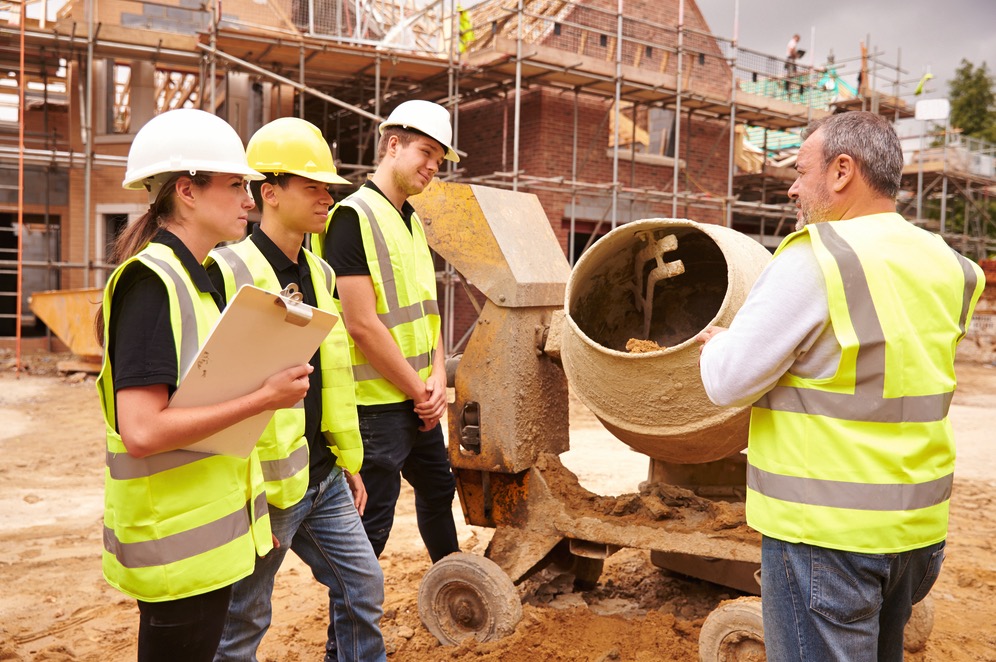 The construction industry is currently facing a major recruitment and skills challenge. According to CITB's Construction Skills Network (CSN) forecast, the industry will continue to grow over the next five years, creating 168,500 new jobs. Major projects including HS2, Hinckley Point, and house-building programmes will all provide employment, and as the industry modernises, it will require an increasingly highly-skilled workforce able to embrace digitalisation.
Yet at the same time, construction has an ageing workforce with hundreds of thousands of construction workers due to retire in the coming years. And shortages will likely be further exacerbated if Brexit stems the flow of younger workers from abroad. It is essential therefore that the industry does more to attract and retain an increasingly skilled, IT-literate and diverse workforce. We speak to the Construction Industry Training Board (CITB) about  plans currently in place to tackle the skills problem.
To help tackle these challenges, the Construction Skills Fund (CSF) launched in October 2018 to create new specialist onsite training hubs across England. Funded by the Department for Education (DfE), and delivered by the Construction Industry Training Board (CITB), the £22M fund provides training for people to enter the construction sector – both unemployed and those changing career.
The hubs are a new and innovative route into construction, as they allow local people to train on live sites in their area, getting a feel for working in the sector and gaining valuable real life experience. The project aims to support 17,000 people, training them to be ready for employment in the construction industry by March 2020. The programme's results will be independently evaluated by the Institute for Employment Studies (IES).
Six months into the project, 1,275 trainees have become site-ready to join the industry after completing their training at 20 new onsite hubs. 42% of learners have received job offers from local construction employers, surpassing the project's target of 30%. Well over half (57%) of learners come from non-traditional entry routes or groups currently underrepresented in construction – this is above a target of 45%.
The CSF also aims to provide opportunities to those in other careers, or roles where there is a high risk of job automation in the future, helping them to retrain and enhance their future career prospects. The project has now worked with 459 career changers, many of whom are at risk of automation, or 36% of the total, surpassing its target of 15%.
One trainee, Davey Allen, a 23 year old ex-mechanic from Sheffield, describes how he will 'never look back' now he has joined the construction industry through the CSF scheme. He is now working as an on-site labourer for City & County Property Maintenance and is looking forward to using his new found skills both in his new career and his home life.
What are the hubs aiming to achieve?
The hubs aim to increase the skills supply in construction, reducing the number of hard-to-fill vacancies. They aim to do this by training and retraining adults and giving them the skills they need to apply for entry-level positions.
Some hubs are primarily focused on increasing the skills supply for one construction site, usually because they are attached to a significant development site. Other hubs are supporting a number of construction sites, in some cases to achieve a scale of job vacancies in rural locations across smaller developments.
The programme has a local dimension as hubs aim to share the benefits from construction projects with the communities they are working in, leaving a lasting legacy of increased employment and improved skills among local residents. This focus can also help employers to meet the terms of the Section 106 agreements applying to their build.
How will the hubs increase the skills supply?
Partnership working across the public, private and voluntary sectors generates referrals onto the programme, plan and deliver training (Figure 1). Most areas have engaged Jobcentre Plus and local voluntary and community sector organisations to identify suitable participants. Each hub is working closely with local employers to understand their skills and recruitment needs, so the training delivers candidates they are willing to employ.
Few eligibility requirements for potential participants. This is in contrast to some mainstream skills provision where age, postcode, and prior qualification level can restrict training eligibility. What is required from participants is an appetite and passion for construction, alongside a general willingness to learn and positive attitude towards work.
Flexible, short, focussed interventions. The training delivery is very flexible, typically lasting between one and two weeks. The hubs aim to meet the skills needs of local employers by putting together several components that quickly build the capability of individuals, enabling them to make strong applications for construction vacancies (Figure 2). There is inbuilt flexibility, with many hubs varying their training programme regularly to meet changing employer requirements for specific skills and job roles across the lifecycle of the build. The training and support programme typically include the following elements:
Information, advice or guidance and screening for suitability and interest in working in the construction sector;
Employability behaviour and a focus on the attributes required to work safely and effectively on a construction site, including time-keeping, and drug and alcohol awareness;
Working towards and testing for the CSCS card;
Specific qualifications or training for a job role (for example, working at heights; plant and vehicle marshal, and COTS scaffolding qualification); and
Tours of construction sites, work tasters and placements that will allow potential recruits to experience what it is like to work in the modern construction industry – and dispel a few of the myths.
Supporting successful participants into construction vacancies by partnering with employers. Some employers begin recruiting for job vacancies even during the training, with employers interviewing suitable participants throughout the programme.
One of the new CSF hubs is The Building Block, coordinated by Sheffield City Council to help train the workforce it needs to construct 10,000 new homes. The £715,000 CSF investment gives local people with no previous construction experience the chance to become involved in various construction trades.
Following a two-week programme where they benefit from learning a variety of key skills, learners gain invaluable work experience at one of the city's housing development sites. From here, successful candidates have the opportunity to gain long term employment. So far, of 25 learners who have moved into employment, 23 are from underrepresented groups. The scheme has provided a massive boost to the local area and helping to meet house-building targets.
What's next?
CSF is already making a huge difference in the communities in which on-site Hubs are based – but we now need to do more to support employers, educators and potential recruits to ensure that the construction industry is supplied with the qualified, diverse, tech-savvy and ambitious people the sector requires to grow and build Britain.
"The Construction Skills Fund has now been operating for more than six months, and already we are beginning to see the benefit to local people and businesses," says Steve Radley, Policy Director at the Construction Industry Training Board. "It's great that the CSF is attracting people from a wide variety of backgrounds to take up the fantastic jobs being created. We look forward to building on the promising results to date and continuing to develop and nurture talent within the industry."
Rosie Gloster, CSF Evaluation Manager at IES, added: "The Construction Skills Fund is a really exciting opportunity to test whether a short programme, designed specifically to respond to employers' recruitment needs, can bring forward and train people to work in the construction sector who would not otherwise have been in a position to successfully apply for these vacancies. We're delighted to be evaluating the CSF over the coming months and our report will be published in spring 2020."