Tintagel Castle bridge receives £2.5m donation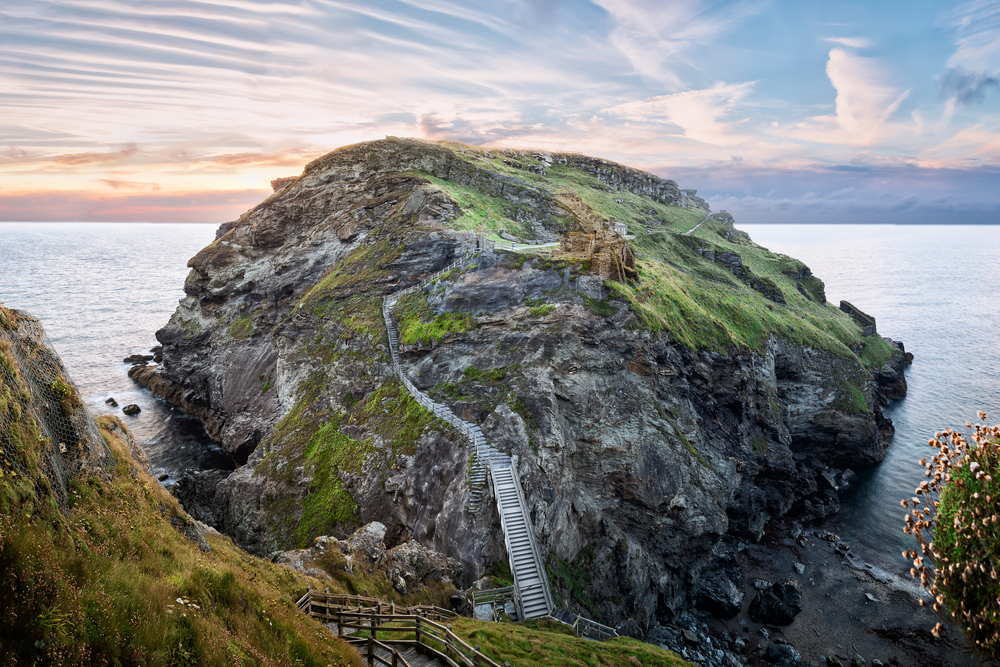 The charity behind the plans for the Tintagel Castle bridge has received £2.5M from a private donor to complete the project at the historic Cornish site.
The Tintagel Castle bridge will provide a walkway from the mainland to an island which used to be part of the land prior to erosion, on which the historic castle once stood. The site is popular with tourists due to its connection with the legend of King Arthur.
The private donation is the largest ever received by English Heritage and was made by Julia and Hans Rausing via their trust. Their names and the names of other contributors will remain a part of the bridge, with slates on the walkway being signed by donors.
The bridge is due to open in the summer of this year and features a modern design planned to give visitors a better view of how the landscape would have been in the castle's Arthurian heyday, standing 57m above the sea and as light and unobtrusive as possible. It was designed by Ney & Partners and William Matthews Associates Architectural practice.
Chairman of English Heritage Sir Tim Laurence said: "Thanks to Julia and Hans Rausing's generosity, people will be better able to understand and enjoy Tintagel Castle. It is an inspiring gift for an inspiring site and we are extremely grateful to them."
"As a charity, it is only with the support of our visitors, members and donors that we can ensure our historic landmarks continue to provide a fascinating and exciting experience to all-comers."
The Castle enjoys around 25,000 visitors a year and it is hoped the new bridge will reduce congestion, helping to preserve the archaeology and ecology of the site from people using footpaths. Work began in October last year and the Castle has been closed to visitors while it is being completed.
If you would like to read more articles like this then please click here.
If you are interested in finding out more about key infrastructure trends today, you may wish to attend the flagship infrastructure exhibition at the NEC in April 2019: UKIS 2019
Register for your delegate place now: UK Infrastructure Show 2019.