Digitising construction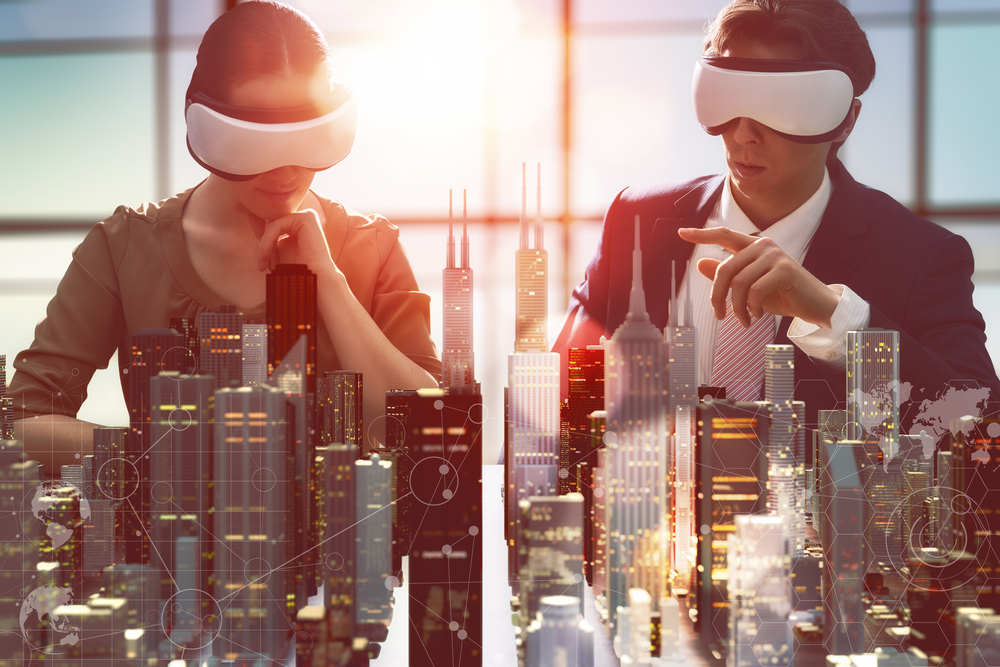 BIM technology is revolutionary for construction, bringing together design, planning and infrastructure, and enhancing communication between contractors, sub contractors and supply chain.
Its influential nature has become a fundamental in the design, creation and development of public sector buildings, and is increasingly being applied to schemes across the UK.
We spoke with Mark Norton, Head of BIM, and Simon Spink, Head of Visualisation, at ISG about the technology and how it has integrated itself into the AEC landscape.
Having joined the industry in the 80s as a Mechanical Engineer, and building an interest in CAD, Mark has been an advocate of digital construction ever since. Joining ISG nearly four years ago as the Head of BIM has led Mark into a technological crusade, working within a forward-thinking operation that is looking to use digital technology wherever possible.
"My scope has changed quite dramatically from when I joined," he says "when we look at the variety of interfaces available within construction and where we can use that technology. BIM is all reaching now.
"Take up of the technology has become quite rapid, and ISG have found there are a number of applications. This has led to an investment in both people and state-of-the-art equipment. But where can the technology be applied?
"There are two areas that we look at in detail: Preconstruction and VR." says Mark.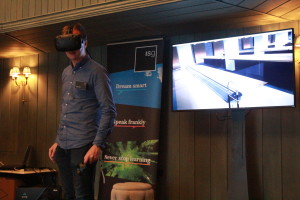 "A few years back, people were rendering models and walkthroughs with VR. What we've progressed to now is live walk-throughs – which are far more intuitive to clients and a prerequisite for a room. Clients can walk-through before buildings are even built, with the freedom of the building so to speak, whereas before you had a certain area or a pre-recorded area that Clients could explore, now you can go anywhere.
"This feature has already shown significant benefits, with less or no changes to designs further down the line. Clients are given a spatial awareness not available previously, and new design options can be explored."
Simon agreed: "The decisionmakers on projects have changed in recent years. For example, we are seeing the HR director play an increasingly important role in the delivery of a company's new workplace. As decision making devolves to people that are not real estate experts, VR and AR can help bridge the divide between technical documentation and the finished product.
"Our real-time visualisation app means that we can go to meetings with our client and guide them through their space. The client can look at any area of their building immediately and see the finished product without having to wait for renders from the architects. We can show them what the space will look like with different floor finishes or under different lighting conditions. This not only accelerates the decision-making process, but gives the entire project team piece of mind and the client confidence."
Applications for virtual reality are wide ranging, and Simon sees one of the most useful applications is in training. "One of the most pressing opportunities for VR is as a health and safety training tool." He says, "It can be used for site inductions and as part of an ongoing training programme to make people aware of hazards and teach them how to respond to risks in a controlled and measured way.
"Aircraft pilots have learnt how to fly under simulated conditions for decades, so it makes sense for other industries with highly trained operatives to follow suit to reduce risk. If you immerse someone into a real-life situation within their work environment, you can train them more effectively and safely in what is essentially a live scenario rather than learning reactively on the job. We can input the risks, make them aware of them and teach them to deal with the situation.
"As well as scenario planning, it can also help with employee orientation. A virtual induction means that employees can walk around the site to familiarise themselves with fire exits or facilities, which again helps to mitigate risk. It can be used like the hazard perception test in a driving examination. We are now using VR to supplement the Construction Skills Certification Scheme (CSCS), but as it becomes more widely used across the industry we should look towards accreditation for VR training schemes."
Augmented reality is being applied in different scenarios, it is easily applied on site and can be used through smartphones and tablets.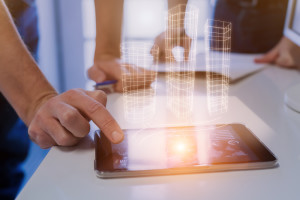 "While AR lends itself to a lot of areas, kit is still quite expensive and not quite where it needs to be to take off." Says Mark. "So, we're looking at technology that people already use, such as tablets and smart phones, things where we can add AR intuitively."
Mark continued: "We can overlay models against the actual reality of the building, pull up data, and merge that with what we're seeing on the smart phone or tablet."
"As we build these plans, we see it is all useful information that can be complied for the Facilities Manager. When you hand over, that information is handed over to the facilities team, so they've almost got an x-ray vision of what is behind walls, above ceilings, and below floors. You can also break out the data that's associated with that, so the FM team doesn't have to refer to manuals etc, they can do it live within the building."
Construction is seen as a bit of a dinosaur and slow moving to take up new technologies. Whether digital construction will be embraced by the industry or dismissed as a gimmick remains to be seen.
"That's why we're going down the smart phone and tablet route because, everybody has them." Says Mark. "If you look at the smart helmets, they're a great bit of equipment, but they're quite expensive and quite niche, maybe in five to ten years time when the price drops. But everybody has a smartphone or tablet, they are easy to use and relatively inexpensive and the technology fits with them very well.
"One of our development rules is the two-minute rule – so if somebody can't use a bit of tech within two minutes, they are probably not going to use it, so we try to make everything as easy as possible.
Technology is developing and changing so rapidly, its applications in construction will become more ingrained.
"Over the next five years, robotics will probably play apart in what we do on site to a certain degree." He says. "At the moment they're manually operated, but it's only a matter of time before they become autonomous and they're travelling around sites on their own, that will be a big area.
"Machine/computer learning is going to grow and grow and that analysis it's going to give us far many more solutions than we could think of ourselves. So part of design and construction iteration could be taken away from the human brain and progressed maybe with a machine.
"It's an exciting time to be in construction."
If you would like to read more articles like this then please click here.