Highview Power's world first grid-scale liquid air energy storage plant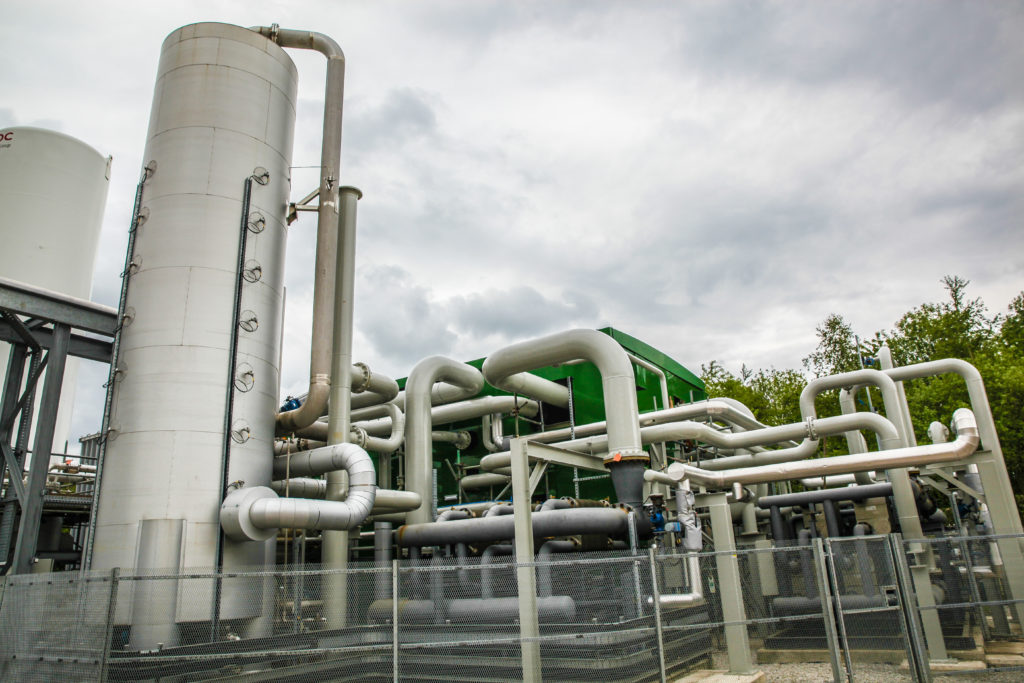 A new clean energy system, enabled by long-duration storage technology.
Pressure is mounting to decarbonise global energy systems as countries step up efforts to meet their obligations to the Paris Agreement, a legally binding commitment to limit global temperature rises to two degrees Celsius. To achieve this, cleaner technologies are required that can help curb greenhouse gas emissions.
Cleaner energy generation technologies are already completely transforming the world's energy landscape. In the UK in 2017, renewable energy comprising wind, solar, hydro and biomass accounted for just over 29% of electricity generation, up from a quarter the year before, with a further 21 per cent coming from nuclear power.
As more renewable electricity is generated, grid operators and utilities are looking for ways to balance the grid and increase reliability. Storage technologies enable surplus electricity to be stored ready to meet peak demand. For urban areas the size of small towns to large cities, energy demand at this scale is best met by long-duration energy storage, where energy can be deployed for several hours daily (four or more), over weeks or even months.
One form of long-duration energy storage is a technology called liquid air energy storage (LAES). This is a clean and locatable process made of easily recyclable mature components and therefore an attractive option as more governments look to reduce reliance on carbon intensive fossil energy.
Manchester home to energy world first
Highview Power, industry leaders in LAES technology, is commercialising the technology at just the right time. The company's second operational LAES plant went live in June this year and is the world's first grid-connected LAES plant. Demand response aggregator KiWi Power is drawing energy from the 5MW plant, which is capable of powering the equivalent of about 5,000 average-sized homes for several hours.
The Highview Power LAES plant is located in a corner of Manchester at the Pilsworth facility in Bury, owned by recycling and renewable energy company, and project partner, Viridor.
Gareth Brett, CEO at Highview Power, comments: "Support from Government, our partners and our supply chain, has enabled Highview Power to successfully design and build the world's first grid-scale LAES plant here in the UK. The plant is the only large scale, true long-duration, locatable energy storage technology available today, at acceptable cost."
The plant was built with over £8M in funding from the UK government. It builds on the success of a pilot plant which operated for four years at an SSE site in Slough, UK.
Liquid air energy storage – pulling energy from thin air
LAES technology makes use of a freely available resource – the air – which turns to liquid when cooled down to -196°C (-320˚F). This is then stored very efficiently in insulated, low pressure vessels. Exposure to ambient temperatures causes rapid re-gasification and a 700-fold expansion in volume, which is then used to drive a turbine and create electricity without combustion.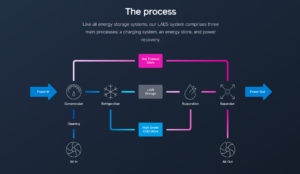 Unlike chemical-based technologies, a Highview Power plant operates using a thermodynamic cycle that can interface with co-located thermal processes such as LNG regasification plants, peaking plants and industrial applications to recycle waste heat or cold within the LAES process.
Long-duration storage – when batteries don't cut it
This year, National Grid amended the duration requirements for the minimum derating of storage in the capacity market from 4 hours to 4.5 hours. This indicates that long-duration energy storage is crucial to ensuring security of supply, unlike shorter-duration options like batteries.
Long-duration technology can also overcome long gaps in energy output that occur, particularly with renewable energy generation: for example, the gap in solar generation at night can be covered by previously stored energy. This time-shifting capability also helps overcome the intermittency of renewables by providing a source of power to smooth out the varying output.
Highview Power's LAES plants provide services at all levels of the electricity system: supporting power generation, providing stabilisation services to transmission grids and distribution networks, and acting as a source of backup power to large scale end users.
At scale, a Highview Power LAES plant would be capable of powering a town of more than 100,000 average-sized homes, and for many hours, rather than the couple of hours afforded by battery storage. A small town to large city requires plants with a power output from 10MW to 200MW+ and with a storage capacity of 40MWh to more than 2000MWh+. These LAES plants could feed straight into national transmission power networks, rather than through an aggregator.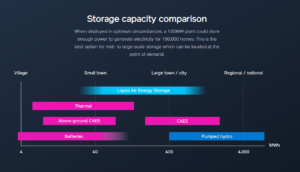 The benefits
Highview Power's LAES technology is scalable and modular; once the plant is designed, the components are procured from OEMs and the plant is built by construction companies. Customers have peace of mind because all the components are mature and supplied by established, reputable manufacturers.
A bright future ahead for long-duration energy storage
With LAES technology now being proven at scale, the Highview Power plant at Pilsworth paves the way for the wider adoption of LAES technology globally. The deployment of smart, flexible long-duration technologies such as LAES are now being realised, supported by new and exciting collaborations along the supply chain. This level of innovation and cooperation bodes well for the development of a modern low-carbon energy system, supplying power to help people and economies thrive, without destroying the planet.
If you are interested in finding out more about key infrastructure trends today, you may wish to attend the flagship infrastructure exhibition at the NEC in April 2019 : UKIS 2019
Click here for more information on how to register or exhibit at the UK Infrastructure Show 2019.  
If you would like to read more articles like this then please click here.