London Mayor unveils £1.1Bn vision for East Bank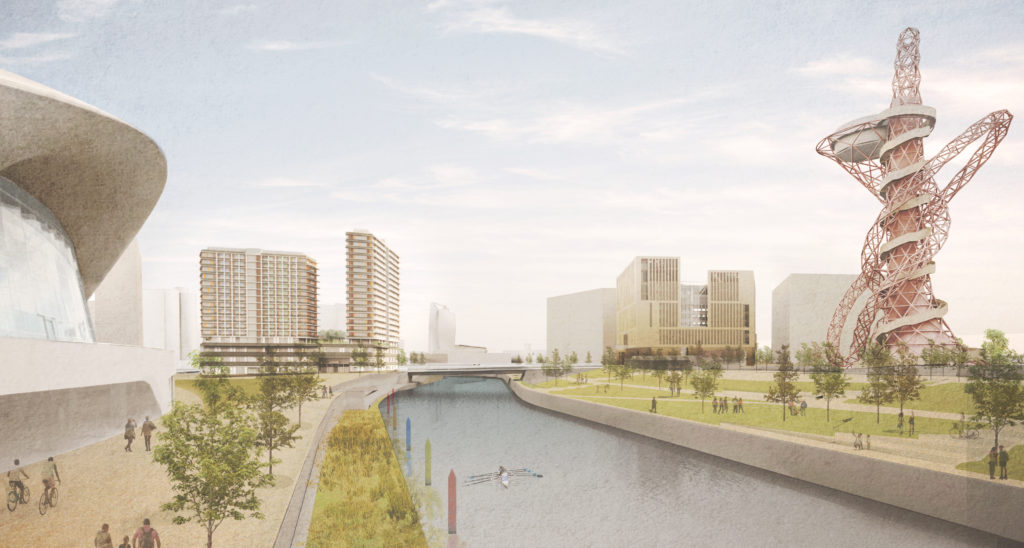 The Mayor of London, Sadiq Khan, has revealed his £1.1Bn vision for East Bank at Queen Elizabeth Olympic Park.
The vision sees the creation of a new powerhouse of culture, education, innovation and growth.
Supported by a £151M contribution from the government, the reimagined East Bank will see a number of prestigious institutions set up shop on the waterfront, with the BBC, Sadler's Wells, London College of Fashion (part of University of the Arts London), University College London (UCL) and the V&A including a partnership with the Smithsonian Institution, already confirming their presence.
The BBC will create a new home for the world-renowned BBC Symphony Orchestra & Chorus and BBC Singers, with a substantial presence from the BBC Concert Orchestra, including state-of-the-art recording facilities to host recording sessions and live performances across all genres from global stars to emerging talent.
Sadiq Khan unveiled plans and designs for numerous buildings on the site, and announced that at least 50% of new homes created across the development sites on the Park – Stratford Waterfront, Pudding Mill and Rick Roberts Way – will be affordable, in line with the Mayor's own commitment on new development sites.
The new site for UCL (University College London) at East Bank will see a new and pioneering campus, UCL East, created.
The scheme will provide skills and jobs for local people, bring over 10,000 students to the site, and attract thousands of visitors from London and beyond. Inspired by the success of the South Bank in transforming a location through world class art and learning opportunities, East Bank will help to cement the capital's reputation as a world leader in culture, education and innovation.
Designs for the reimagined East Bank have been provided by Architects Allies and Morrison, O'Donnell + Tuomey, and Camps Felip Arquitecturia following detailed public consultation.
The Mayor of London, Sadiq Khan, said: "Great cities are defined by their ambition as much as their achievements – East Bank is the most ambitious new project of its kind for decades. I have made culture, innovation and growth a top priority, and as London's centre of gravity extends east, I'm delighted that we're placing culture and education at the heart of this development and the Olympic legacy.
"My vision for East Bank is one where everyone, regardless of their background, can access world-class culture and education on their doorstep. East Bank is a fantastic collaboration of inter-disciplinary work and world-class institutions that will drive forward growth and inspire more young Londoners to take up creative careers, transforming the communities of east London."
Communities Secretary, Rt Hon James Brokenshire MP, said: "I am delighted to confirm the Government's financial support for this exciting project. Building on the 2012 Olympic and Paralympic legacy, this ambitious scheme will create an exciting new cultural hub in East London. East Bank is also about creating new opportunities and innovation to drive greater prosperity for this area and help change lives. Through this multi-million pound contribution Government is helping to bring these exceptional institutions and thousands of jobs to the area. It will deliver a huge boost to the local economy and a renewed vision for East London."
If you would like to read more articles like this then please click here.