Sustainability Projects Showcased for COP26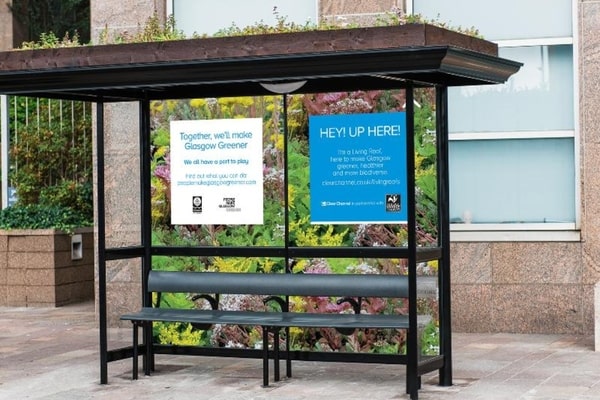 In advance of the COP26 Climate Conference, Glasgow City Council has launched a site for visitors to explore its sustainability projects and green events taking place across the city.
From smart canals to interactive performance venues, the Storymap gives residents and COP26 attendees the ability to create their own personal walking tour of the city and the key sites which are helping the city reach its ambitious goal of net zero carbon by 2030. Many are part of the Sustainable Glasgow partnership, an initiative aiming to encourage Glasgow business to adopt more sustainable practices.
The interactive map is available throughout the city, and divides it into three areas which can be discovered on different days.
Visitors will also be able to explore a diverse range of projects from rapid electric vehicle charging stations, to living roofs on bus stops, to the Sustainable Glasgow Landing, a pop-up venue next to the River Clyde which, during COP26, will pay host to local as well as global organisations.
Accompanied by a bar over the weekends, the Sustainable Glasgow Landing will feature displays and performances to showcase how we can respond to the climate emergency. From vertical farming to robots delivering your crops to active travel solutions, everyone is invited to explore the exhibitions and rest their weary feet after a long day exploring all that the Storymap has to offer.
Councillor Susan Aitken, Leader of Glasgow City Council, said: "This exciting Storymap will allow locals and visitors alike to enjoy all that our city has to offer during COP26.
"The work of the Sustainable Glasgow partnership will play a crucial role in achieving our climate ambitions and I'm delighted to see the Storymap showcasing the variety and depth of the initiatives in development across the whole of Glasgow as we look to reach net zero carbon by 2030.
"We are proud of what we have achieved to date and look to showcase all that is still to come to ensure our 'Dear Green Place' is ready to adapt to the climate crisis which remains a global, national and local priority."
One of the main aims of COP26 is for nations to declare their commitment to net zero if we are to keep the global goal of limiting warming to 1.5°C within reach.
As we continue to recover from the pandemic, Glasgow looks to continue the legacy from its hosting of the climate conference as an exemplar city for Scotland and the UK, making a tangible reality out of the ambition for a green recovery.
Explore the Sustainable Glasgow Storymap and see what you'd like to add to your walking trail: https://bit.ly/3lO0NFt
If you would like to read more stories like this, then please click here