Peterborough Energy Plans to Cut Emissions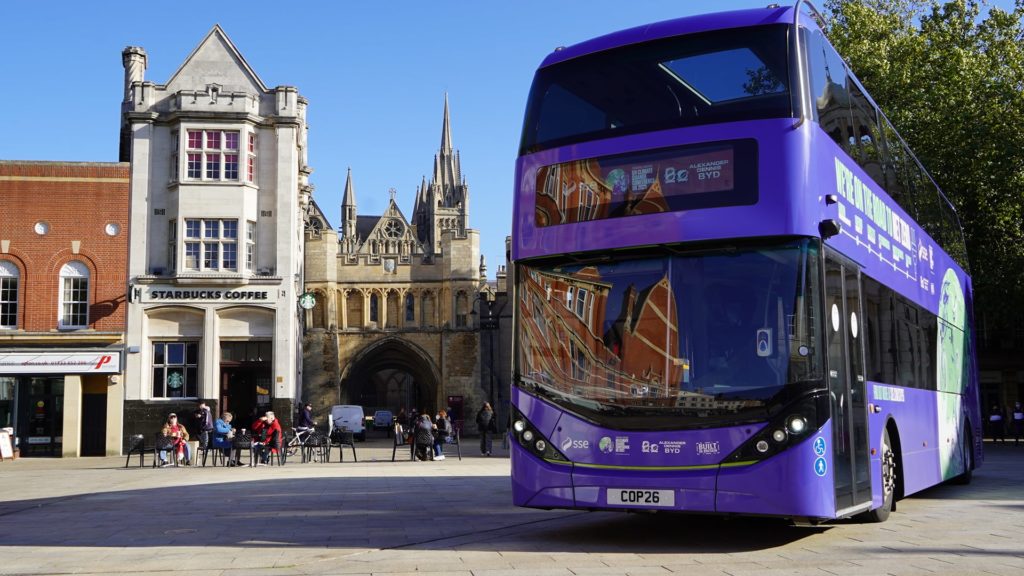 Plans for Peterborough to adopt a smart energy system have reached their halfway point. The Mayor of Peterborough, Cllr Stephen Lane and the City Council leader, Cllr Wayne Fitzgerald were among the local leaders who celebrated this milestone last month, welcoming an electric double-decker bus into the city.
The Peterborough Integrated Renewables Infrastructure project (PIRI) estimates that it will cut 80-90% of CO2 emissions over 40 years, whilst also reducing energy bills by up to a quarter by 2030.
PIRI project partners gathered to welcome the electric bus on its nationwide tour of the UK's most innovative clean energy projects ahead of the COP26 summit in Glasgow. Attendees included Cllr Nigel Simons, Cabinet Member for Waste, Street Scene and the Environment; and David Brend, Director of Business Development at SSE Energy Solutions.
Nathan Sanders, Managing Director at SSE Energy Solutions, said: "PIRI is a perfect example of the type of innovation and collaboration we need to get local communities to net zero. The project combines a next generation heat network, electricity network and EV infrastructure under one holistic scheme, taking a 'whole systems' approach that will optimise carbon reduction and cost savings.
"At SSE Energy Solutions we are very proud to be part of this pioneering initiative that will serve as a blueprint to decarbonise UK cities, and which we are celebrating today on our 'Road to Renewables' journey to COP26."
"In response to Peterborough's rapidly growing economy, PIRI is focused on developing 'enabling infrastructure', preparing the city for an electrified future and opening the door for other technologies such as green hydrogen. The low carbon, smart energy system will enable Peterborough to expand whilst reducing its carbon footprint and energy costs."
Dr Tanja Groth, Director of Urban Resilience at Sweco UK and PIRI partner commented: "This pace of change is unheard of in the energy sector. PIRI is delivering a design for an integrated energy system within three years, incorporating low carbon electricity, heating and transport. In comparison, designing a district heating system alone would typically take between five and six years.
"Peterborough is proving that it is possible to complete a smart city design at pace and at scale, laying the groundwork for other cities to follow."
PIRI is the largest smart city energy regeneration scheme in the UK, aiming to deliver a significant drop in CO2 emissions by 2030. Results from a study into the feasibility of the ambitious plans identified 80GWh of annual electricity needs and 25GWh of heat demand that can be connected to a low carbon power network by 2030.
Councillor Wayne Fitzgerald, Leader of Peterborough City Council, commented: "By working closely with our partners, we have been able to design a system that is changing what was believed to be possible when creating a fully integrated, clean energy system at scale. We hope our findings can be rolled out in cities across the UK and are pleased to be demonstrating our progress today on the nationwide 'Road to Renewables' tour."
Unlike other large-scale energy projects, PIRI is planning to embed thermal and electric storage and flexibility into the initial design. This means it will be possible to mix and match available supply to demand across heating, electricity and transport, rather than keeping complex energy requirements in silos. By taking this agile, integrated approach, it will be easier to incorporate new renewable energy resources as they become viable in future years. This will allow the city to respond to changes in demand such as a rapid uptake of electric vehicles and growing population.
PIRI is being led by Peterborough City Council, working with partners that include SSE Energy Solutions, Element Energy, Cranfield University, Smarter Grid Solutions and Sweco UK. The two-year project has been granted funding from UK Research and Innovation alongside corporate investment to design a low-carbon, smart energy system for the city.
SSE is a major partner at COP26, and alongside the Go-Ahead Group, Alexander Dennis, BYD and SWARCO Smart Charging is using the electric bus tour to showcase examples of the national effort already under way to decarbonise energy. The bus, which is a BYD ADL Enviro400EV electric double-decker, was built in Britain by Alexander Dennis and BYD.
If you would like to read more stories like this, then please click here