VolkerHighways Appointed to Lighting Contract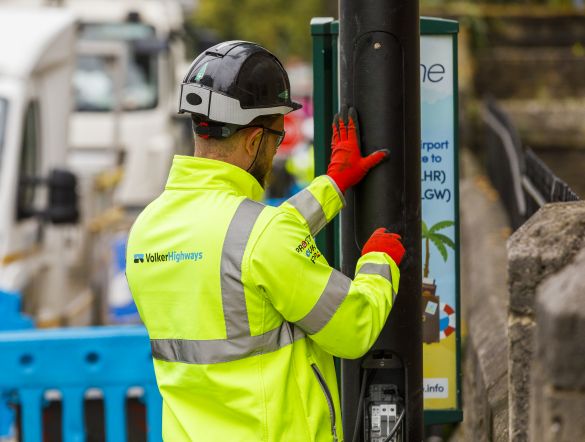 VolkerHighways has been awarded a ten-year streetlighting maintenance contract for the Royal Borough of Kingston upon Thames and the London Borough of Sutton, worth £20 million.
The contract will begin in April 2021 and will continue through until 2031. It will include the general maintenance and repair of streetlighting and illuminated signs and bollards, including more than 11,000 streetlights of the Royal Borough of Kingston and 15,000 streetlights for the London Borough of Sutton.
Work also includes routine and non-routine maintenance works, planned LED replacement works and a night scouting service. VolkerHighways will also provide an emergency call-out service, including responding to any incidents on the road network.
In order to support employment and training within the area, VolkerHighways will be employing at least one local apprentice who will have the opportunity to learn and be trained to industry standards, gaining experience working within the business's highly trained team.
In the first year, in addition to general maintenance and repair, VolkerHighways will replace life-expired luminaries with LEDs for the Royal Borough of Kingston. By replacing the lighting, the contract will achieve energy savings for the council, as well as providing a lower carbon footprint.
Alistair Thompson, Managing Director of VolkerHighways, said: "We are delighted that the Royal Borough of Kingston and London Borough of Sutton councils have awarded us their streetlighting term maintenance contract. We are committed to providing a high-quality, efficient service that improves safety in and around Kingston and Sutton. We look forward to the contract getting underway."
Cllr Hilary Gander, Environment and Sustainable Transport Portfolio Holder for the Royal Borough of Kingston, commented: "Modern, reliable streetlighting is an important part of the council's commitment to the safety of our residents and to our climate emergency carbon reduction targets. We welcome VolkerHighways to Kingston to work with us."
Cllr Manuel Abellan, Chair of Sutton's Environment and Sustainable Transport Committee for the London Borough of Sutton, added: "This new contract will help reduce Sutton's energy bills and support our ambitious climate emergency response. The new LED lamp columns can also double up as electric vehicle charging points."
If you would like to read more stories like this, then please click here