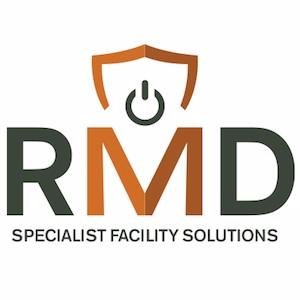 New look and new direction for RMD
After more than two decades in business as R M Donaldson and later as RMD Power and Cooling, we have rebranded as RMD, created a fresh new brand identity and launched a new website, marking the start of an exciting new chapter in our history.  
Catch up with David Purvis, recently appointed Operations Manager at RMD, to discover the main drivers of change.
What is the inspiration behind for the new branding? 
We wanted to keep our brand recognisable, yet move towards a more modern theme. It was important that our new logo had impact, and really portrayed what it is we actually do. The shield with the power logo on the inside represents RMD as a company; looking after power protection.  
We also wanted to step away from the bright orange we had previously, to tone it down and give the new website a more professional look and feel.  
What are the features and benefits of the new website? 
The new website is bright, welcoming and it easy to navigate. It gives current and potential customers a clear and concise understanding of the products and services we offer, what activities we do within the community and what we are doing as a business. All in all, it will allow our customers and staff to look through the system and find what they are looking for with relatively short number of clicks. 
 What's next for RMD? 
 We have big plans for the future and are looking at new innovations that will come to light over the coming months. The business is moving forward, and we are increasing sales, customer services and service engineering staff.  
We plan to drive growth through its core business – the supply, installation and maintenance of power protection systems. RMD was originally founded as a supplier of uninterruptible power supply systems (UPS), which provide backup power in case of outages and dips, protecting critical equipment and processes. 
The decision to return to the company's power protection roots will give us more scope to build a presence across a wider range of industries rather than focusing on the niche data centre market. 
 It is a bold new direction we are going with the company. We have always been very successful and we want to build on that success. The new logo and the new website are the building blocks where we are going to take the company now for next five to ten years.  
We have lots of exciting plans that will hopefully bode well for what we are doing, and safeguard the business for a long number of years. 
 Why would you say you are different and what puts you above the competition within your field? 
Definitely the staff! Our staff are very much the life blood of RMD. They are extremely dedicated and knowledgeable. Our team are long-term players not only within the industry, but within RMD itself, and we are very lucky to have such a strong, professional, customer-focused and dedicated team.