Construction Businesses Invited to Summit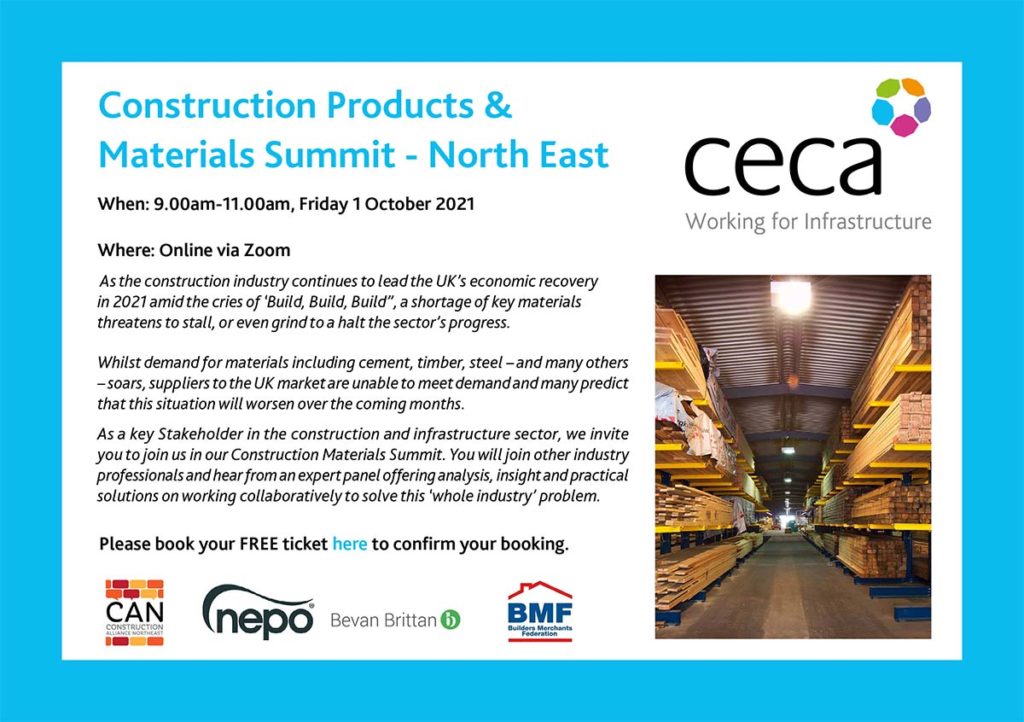 Firms along with public and private sector bodies that are involved in the construction industry in the North East of England are being invited to an emergency summit to help address the deepening materials shortage crisis.
The summit is a cross-industry event, and aims to help raise awareness of the important issues affecting the industry at the present time, along with discussing possible solutions.
Construction Alliance North East (CAN) is working in partnership with regional bodies to stage the Construction Products & Materials Summit to address the worsening materials shortage.
The summit is to be held on Friday 1 October, and is a direct result of discussions between CAN, the North East Procurement Organisation (NEPO) and Civil Engineering Contractors Association (CECA) to discuss price inflation along with the shortages which are continuing to stall the sector's progress.
Construction Alliance North East Chair Ken Parkin said: "Businesses across our region have been hit hard by the COVID-19 pandemic. The closure of sites during the various periods of lockdown, staff issues and now ongoing materials shortages in our industry, means many firms are still battling the financial impact of the pandemic.
"The industry has never faced this situation before so it is important that CAN understands national issues which affect us here in the North East so we can learn from this in future and explain it to our regional membership. CAN strongly believes that planning ahead and working collaboratively with suppliers and clients is the only way to minimise the impact of this global issue on North East contractors."
The summit is set to include key stakeholders from the construction and infrastructure sectors, including the Builders Merchants Federation and Bevan Brittan. As well as this, there will be an expert panel who will offer analysis, insight and practical solutions on working collaboratively to solve this 'whole industry' problem.
Jonathan Walker, policy director at the North East England Chamber of Commerce, commented: "The materials shortage crisis is one that is starting to have a widespread impact on construction firms in our region. Forecast project costs are needing to be reconfigured as businesses weigh up the inflated materials costs, while other contractors are unable to start work on key projects because they just don't have the physical supplies needed to fulfil contracts.
"New barriers to trade following the UK's departure from the European Union have added additional friction to construction material supply chains."
To book your free summit tickets, follow the link here.
If you would like to read more stories like this, then please click here