Guards versus CCTV debate: perimeter fencing is always essential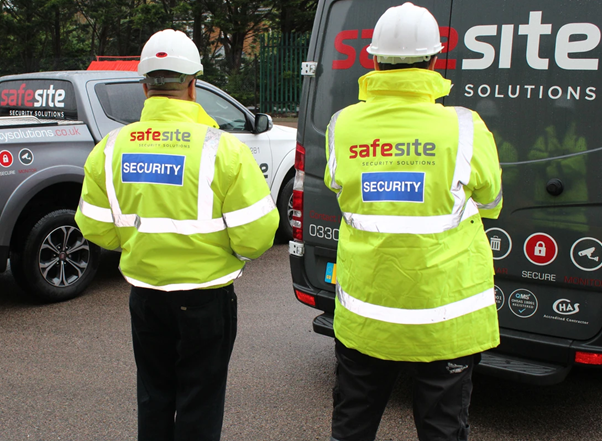 The debate goes on over whether security cameras or security guards are the most effective in keeping your property secure, but each has its pros and cons. However, perimeter fencing is undoubtedly the best first line of defence, says a leading site security company.
Peace of mind
Security guards keep a location safe by exhibiting a physical presence, patrolling and performing surveillance activities. Britain's most prevalent form of security personnel are those provided to an organisation under contract by a specialist security company.
In the course of their duties, these dedicated security guards often engage with premises personnel and members of the public. This interaction can foster a reassuring sense of overall security in a facility.
Only some security guards sit behind a desk or in an office at the entrance to a building. Mobile patrol officers – contracted or hired – are becoming increasingly popular with companies that manage several locations.
In some facilities, such as university campuses, we tend to see dedicated building security, such as in halls of residence, complemented by wider campus security who do mobile patrols.
It's important to remember that security guards cannot detain or search a person or their property. They are also prohibited from using excessive force that might occasionally be necessary to deal with volatile security breaches.
Often, a guard's presence alone is the primary deterrent to potential criminals or trespassers. However, should a situation arise, trained guards should be able to deal with any issue quickly and calmly.
Deter and record
CCTV towers and portable wireless camera systems are the perfect supplements to barriers for site protection. Many modern CCTV systems have intrusion recognition with automatic alarms and spoken alerts.
Cameras can be operated and monitored remotely so officers can be sent to any incident as soon as possible, if required.
Mobile CCTV towers for rapid deployment are increasingly favoured, particularly on building sites where youths or criminals breach hoardings.
Portable CCTV can be deployed at a moment's notice and is therefore favoured in areas where the points of anticipated risk may vary in location. Standalone cameras now boast high-definition video for panoramic surveillance and PA systems that warn potential intruders.
Security cameras are most effective in low-risk environments where the area can be monitored and events recorded. Some cameras will be monitored live, but the majority are there to act as a deterrent and to provide recorded material that can be used for an investigation or prosecution.
With security guards, the reliability and continuity required for security depends on a dedicated team of people, which can be costly and tough to organise for smaller firms. Cameras can provide a cheaper way to deter intruders, alert officers, and record crimes for evidence.
Hybrid security
In a hybrid approach, security cameras assist officers in enhancing their field of vision and their knowledge of incidents. Should the guards see anything suspicious, they can do what they do well: respond immediately with their physical presence and deal with the matter.
A single guard can oversee several computer monitors showing different locations. Where once it took a whole team of people to watch over multiple premises, one or two dedicated staff can now respond to incidents across a broad area.
Remote video monitoring systems supplement security guards by delivering continuous coverage and proactive deterrence when security personnel are absent.
In adopting a hybrid solution, businesses can gain total security coverage, but one element must be in place for the above tools to work efficiently. There must be efficient physical prevention measures in place around the premises, and this might include fencing, barriers, or hoarding where building work is taking place, to prevent access by unwanted visitors.
Fence: the best defence
A security fence constitutes the primary means of protection for a company's grounds and is thus of paramount importance. Hoardings that are of sufficient height for the premises are an instrumental element in deterring potential intruders.
Anti-climb devices protect security fences, so you never need to worry about anyone coming in. Security guards and security cameras – as crucial as they are – will only be required in such numbers if the outside perimeter is professionally fenced.
Adam, Technical Manager at SafeSite Facilities, comments:
"The initial step should always be to make sure no unauthorised access can happen at premises in the first place. Our company is a leader in providing professional perimeter fencing from timber hoardings to chain link barriers.
"Security staff and cameras are, of course, a valuable asset, and you'll always want to have at least one of these options onsite. But many crimes can be prevented by ensuring that no intrusions happen in the first place, which saves officers attending incidents and unnecessarily reviewing videotape."
Find out more about security guard services here.