SafeSite is a safe bet for large-scale security projects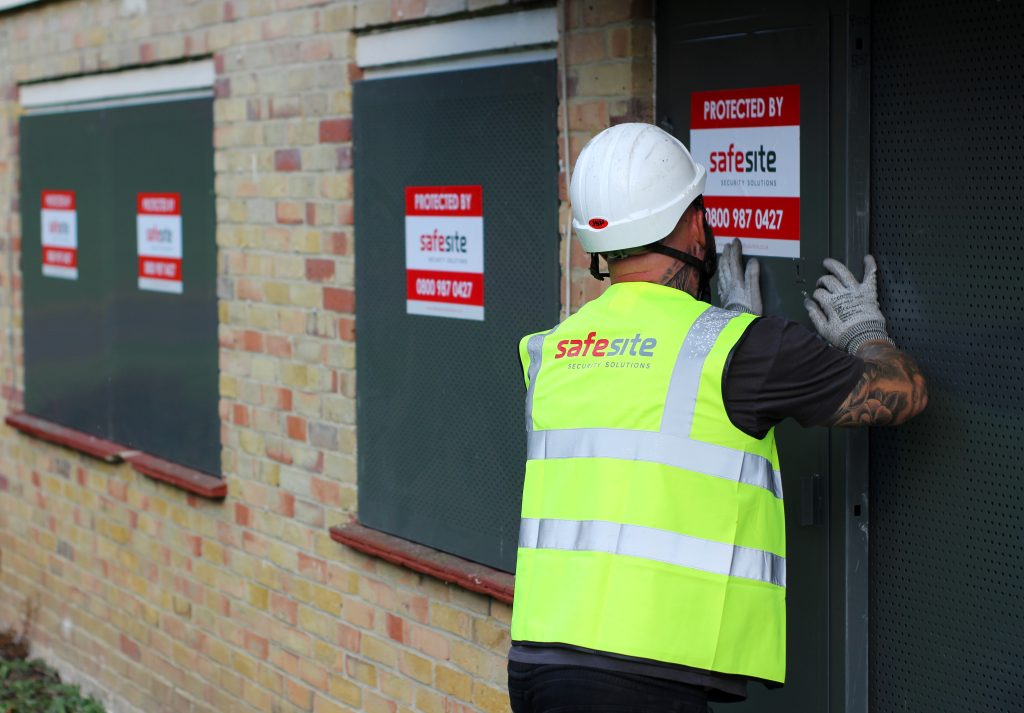 SafeSite Security Solutions achieves success every week as a leading provider of security solutions for large-scale operations. With nationwide coverage and a reputation for quality service, the company has the expertise and resources to handle even the most complex security challenges.
The team's commitment to providing tailored solutions to clients has earned them a trusted reputation in both the private and public sectors.
SafeSite Security Solutions has experience working with local authorities, housing associations and private property owners and understands the specific needs and challenges they face when dealing with vacant properties on large and complex sites. Through its rapport with clients, it can tailor solutions to meet their unique needs and keep an estate, complex, or street secure no matter the size.
Securing vacant properties is vital, as members of the public could wander in and come to harm. There might also be incidents of arson, squatting, or drug use. By properly securing the property with steel security doors and perforated sheet metal over windows, SafeSite Security Solutions reduces such incidents and avoids legal consequences for owners.
Inventory and innovation
SafeSite Security Solutions' vast inventory of products makes it easier to meet the demands of large-scale projects by providing a wide range of options that can be customised to meet the specific needs of each project.
For instance, security cameras, access control systems, and other security equipment may be required to secure a large site. With a wide range of products available, SafeSite can select the most appropriate equipment for each project, considering project scope, budget, and security requirements.
Commanding a large arsenal of products allows SafeSite to respond quickly to changing project requirements, which is particularly useful because larger, longer projects are more subject to changing circumstances than one-off jobs. If a particular product is no longer suitable for a project, SafeSite can quickly identify and deliver alternative products to meet the project's needs.
A brimming warehouse also reduces project costs – no small achievement across many properties. By purchasing products in bulk, SafeSite can often negotiate better prices from suppliers, which can be passed on to clients. This can be especially beneficial for large-scale projects, where the cost of equipment and materials can quickly add up.
For additional services, such as cleaning, graffiti removal, safe removal and disposal of hazardous waste and needles, investment in technology is critical when working on a large scale. For example, the latest graffiti removal technology can do the job much quicker and make it possible for the teams to get around a massive complex faster than rivals.
Across the nation
SafeSite Security Solutions' nationwide coverage means they have teams in multiple locations, enabling them to tackle large-scale jobs quickly wherever they are in the UK. Responding quickly to inquiries and mobilising resources from various locations allows them to handle even the most complex and challenging projects.
SafeSite Security Solutions' extensive experience in the security industry means they have developed a keen understanding of large-scale operations' unique challenges and requirements.
Over the years, the company has worked on a wide range of projects, from securing individual properties to providing comprehensive security solutions for entire construction sites. As a result, they have honed their processes and systems to take on large-scale projects with confidence and efficiency.
Their experience has also allowed them to build a network of trusted partners and suppliers, which gives them access to a vast range of products and services. This means they are well-equipped to tackle any security challenge, no matter how complex or specialised.
Robust relationships
SafeSite Security's experience has allowed them to develop strong relationships with clients, fostering a culture of trust and collaboration crucial to large-scale projects' success. This approach allows for effective communication and cooperation between all stakeholders, ensuring on-budget, timely projection completion to the highest standard.
SafeSite will sometimes work with trusted, local contractors who have previously worked with the company. This means resources can be mobilised and work begun more quickly on large projects without requiring extensive onboarding and training. This can help reduce the overall project timeline and ensure work starts promptly.
Contractors who are familiar with SafeSite's processes and procedures will be able to work more effectively with the company's project managers, resulting in faster, more effective project delivery.
No matter the size
SafeSite Security Solutions is a leading provider of large-scale security operations in the UK, with a reputation for quality service, expertise, and comprehensive security solutions. Their nationwide coverage and extensive experience in the industry enables them to take on complex security challenges with confidence and efficiency, making them a trusted partner for clients in both the private and public sectors.
Steve Charles, Account Manager at SafeSite Security Solutions, said: "Whether it's a small, one-bedroom house or a complex of council properties, we always provide the same quality, comprehensive service. Our success with larger-scale operations is down to our extensive product inventory, nationwide teams, and deployment of resources that benefit from economies of scale.
"No matter the size of the task at hand, our teams are always there to guarantee safety and security."
To find out more, visit https://www.safesitesecuritysolutions.co.uk/