Tackling the looming skills gap in UK construction industry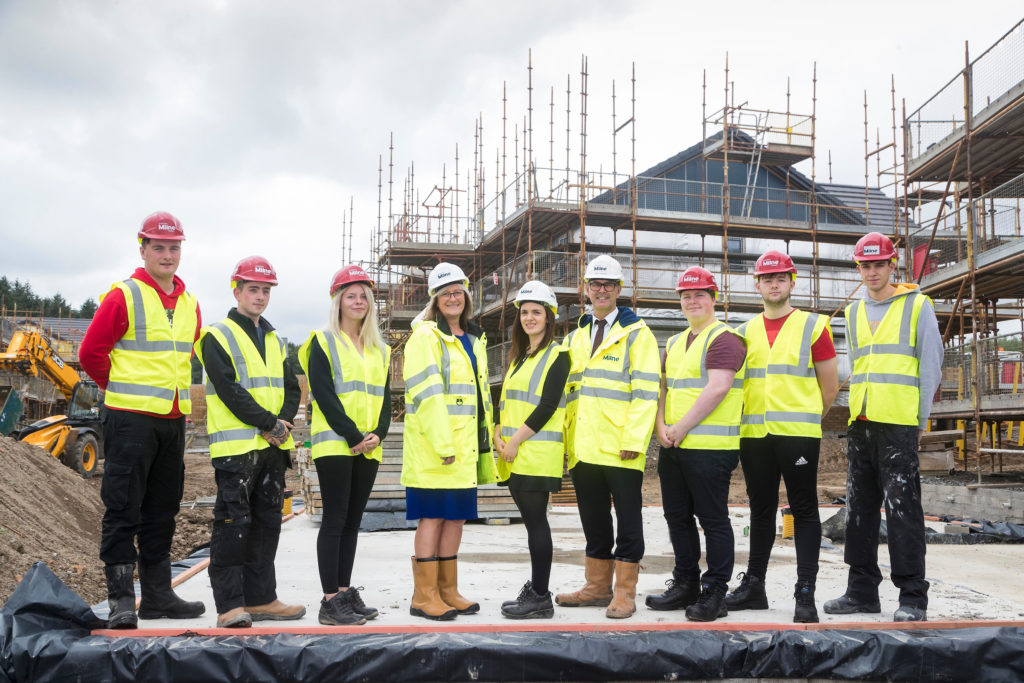 Karen Catto, HR Director at Stewart Milne Group shares her thoughts on tackling the skills gap in the construction industry.
An ageing workforce, changes in technology and misperceptions of the careers available are some of the factors contributing to a looming skills gap in construction in the UK.
Generating almost £90 billion annually, which equates to 6.7% of GDP, construction is currently Britain's third largest industry sector. With more than 2.93 million employees, making up 10% of the UK's jobs, it's no surprise that the shortage of skills is of major concern.
According to the Federation of Master Builders, more than 22% of employees are over the age of 50, 15% of which are in their 60s and due to the physical roles they are undertaking, will be looking to retire within the next decade. With an ageing workforce and a poor pipeline for people entering the industry, particularly for trade roles such as bricklayers and plumbers, the construction sector must do more to avert the threat of a skills shortage.
In today's modern working environment, digital technologies and innovative office environments are paramount. However, historically the construction industry has been slow to embrace technology and often lags behind other sectors.
When it comes to technology we need to see increasing adoption of more advanced offsite timber frame systems, deskilling the site processes and moving some work operations into a factory environment and encouraging more multi-skilling. This makes sites more appealing and attractive to work on, with less exposure to adverse weather conditions and reduced manual handling.
The next generation of workers has grown up with technology and feels more at ease using a computer or mobile device than using more traditional forms of communication. By introducing digital technology on-site and embracing new technologies, companies will improve quality and efficiency in working practices while encouraging youngsters to choose a career in construction.
At Stewart Milne Group, we have been introducing new technological applications both on and off site. From improving internal communications to introducing digitisation and BIM, the group has been changing the way in which it works and recruiting and developing new skills. Adopting digital technologies makes us more productive and more efficient and helps to attract a younger and more diverse workforce.
We are committed to developing a sustainable pipeline of talent into the business. This starts with our work in schools, through DYW, and extends to our sought-after, industry-leading managing people for a growth training programme.
As a major employer, we regularly review roles and deliver a high level of training to develop the skills required to complete a job safely and to a high standard.  However, our sector comprises a large proportion of smaller contractors and sub-contractors, many of whom don't have the resources to deliver such training.
As an industry, we need to do more to work collaboratively to address the situation. For example, we work closely with one of our contractors, William Donald, on an apprenticeship scheme which enables them to recruit apprentices and train them on our developments.
An industry-wide approach is also required to promote the sector and advertise the diverse roles and career progressions.
Changing these perceptions starts with speaking to the future workforce.  A report published by CITB that surveyed teens aged 14 – 19 highlighted that the overall appeal of working in the construction industry is 4.2 out of 10 for males, and 3.2 for females. These low rankings clearly show the negative attitude that young people have towards the industry. Regarding it as a labour-intensive vocation in which workers are "outdoors and getting dirty" and that these roles are more suited to "young people who are unable to get into college or university".
The research also shows that both parents and teachers are more likely to promote other industries where they perceive there are better opportunities for career progression.
This misconception has had a negative impact on recruitment, with companies reporting that they are losing out to competing sectors when recruiting for professional services, such as engineering, project management and IT.
We have noticed an increase in applicants at Stewart Milne Group since introducing modern and graduate apprenticeship programmes. Introducing alternative routes to management roles has improved the diversity of individuals entering the sector however more needs to be done.
A significant shift in the perception of careers in construction is required. As well as regularly attending schools and careers fairs to promote our industry and our company, we run a 'refer a friend' programme, which is an incentive to staff, encouraging them to act as ambassadors for the industry and attract individuals to the workforce.
Stewart Milne Group is currently training 48 trade apprentices and trainees, 2 placement students, 1 graduate apprentice and 9 modern apprentices. These roles include quantity surveyors, sales consultants, architectural and design technicians as well as joiners, bricklayers, electricians, plumbers and painters.
As an award-winning group, we are committed to attracting people into the industry and providing the best training, mentoring and learning experience to nurture and support their development.
Issued on behalf of Stewart Milne Group by BIG Partnership. For more information contact Adele Slater on 01224 253816 or 07805 436988.
https://www.citb.co.uk/documents/research/unlocking_constructions_digital_future_full_report_1_oct2018.pdf
https://www.designingbuildings.co.uk/wiki/Tackling_the_construction_skills_shortage
https://www.ukconstructionmedia.co.uk/case-study/skills-shortage-rising-cost-construction
https://www.citb.co.uk/documents/research/citb-skills-and-training-in-the-construction-industry-report_2018.pdf
https://www.cityandguildsgroup.com/research/constructing-the-future-how-the-skills-needed-for-success-in-the-workplace-are-changing
If you would like to read more articles like this then please click here.