Carbonlite challenge finances ultra-sustainable homes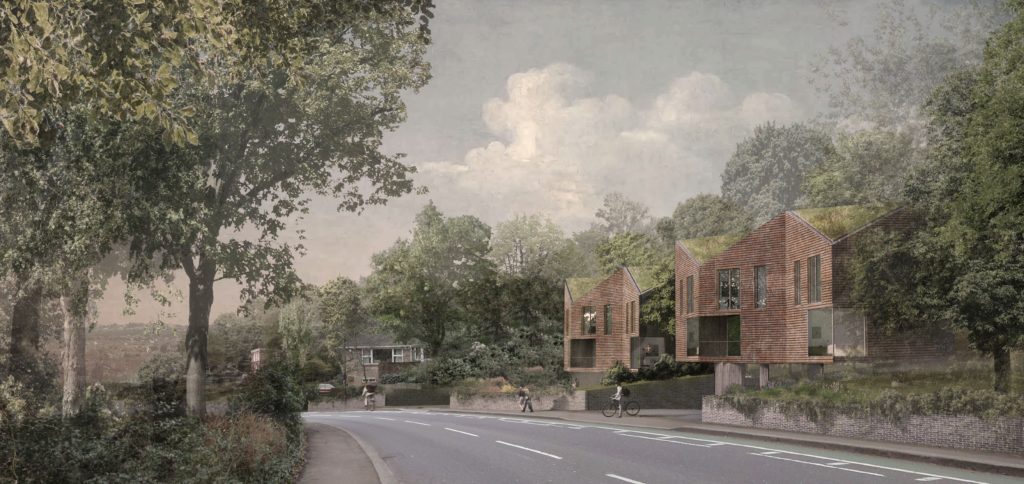 A development of six ultra-sustainable and energy efficient homes in South London has been unveiled as the first project to be financed by Atelier's Carbonlite Challenge, the pilot programme that uses the power of global capital to incentivise the UK's property sector to build greener homes.
Launched in November by the development lender Atelier, with support from the Royal Institute of British Architects (RIBA), the Carbonlite Challenge throws down a gauntlet to property developers – the greener your project, the cheaper your finance.
The development, which was designed by the award-winning architecture practice Craftworks and is being delivered by The Edition Group, combines a low-carbon, highly sustainable design with ultra-high energy efficiency – helping it meet the exacting standards of RIBA's 2030 Climate Challenge.
Set amid mature trees at the edge of Dulwich Wood in South London, the six family homes will feature a cross-laminated timber structure, airtight construction technology and triple glazing. Modern methods of construction – in which much of the structure will be fabricated off-site – will keep waste to a minimum.
Most striking of all will be the homes' 'green roofs' planted with meadow flowers and built-in bird and batboxes, which will support biodiversity and ensure all six 3,150ft2 houses blend harmoniously into their woodland surroundings.
The development's use of sustainable materials, from Douglas Fir wood to handmade clay tiles, means it meets the Carbonlite Challenge's strict green criteria – which range from the embedded carbon of the project to its calculated operational energy and potable water use.
The Carbonlite Challenge, which offers loans to qualifying residential developments in England, Scotland and Wales, rewards green developers with rebates that bring the net annual cost of their borrowing down as low as 4.99%.
In a deal brokered by SPF Private Clients, Atelier has provided £10m to finance the development of The Edition Group scheme in Dulwich. Upon successful completion of a post-construction Carbon and Sustainability assessment, the developers will receive a rebate of over £200,000.
Chris Gardner, Co-founder of Atelier, commented: "The global net zero targets agreed at COP26 can seem distant and abstract. But building greener, lower carbon homes can make a difference today – and that's what the Carbonlite Challenge is all about.
"We're using the power of global capital to reduce the cost of development finance and change the way Britain builds homes for the better, and forever.
"The Edition Group's scheme in Dulwich is a stellar example of the type of homes we want to help developers build. They're beautiful to look at and will blend seamlessly into their environment, and they use clever design and sustainable materials to keep carbon use down – both during construction and when they're being lived in."
John Smart, Director of the Edition Group, added: "We're hugely proud of the homes we're building in Dulwich. Each will be a warm and welcoming family home, and with a communal woodland garden they will together make an attractive addition to the local community – perfectly in tune with their leafy surroundings and boosting biodiversity with bird and batboxes.
"The Carbonlite Challenge is enabling us to go the extra mile on sustainability – allowing us to source materials with very low levels of embedded carbon and build future-proof, comfortable homes that will be highly energy and water efficient for years to come."
Daniel O'Neil, Director at SPF Private Clients, added: "Atelier's Carbonlite Challenge is unique – it offers developers substantial and decisive incentives to encourage developers to build more sustainable homes.
"The Edition Group's development in Dulwich Wood will be a perfect example. It's just three weeks since Carbonlite launched, and in that time Atelier has agreed terms on a £10m loan with a proposed rebate in excess of £200,000.
"Coupled with Atelier's ability to execute deals swiftly, such significant rebates aligned with the finance being proposed under the Carbonlite Challenge make this product one of the most competitively priced in the market today."
If you would like to read more stories like this, then please click here