Structural works completed on new band facility at Royal Military Academy Sandhurst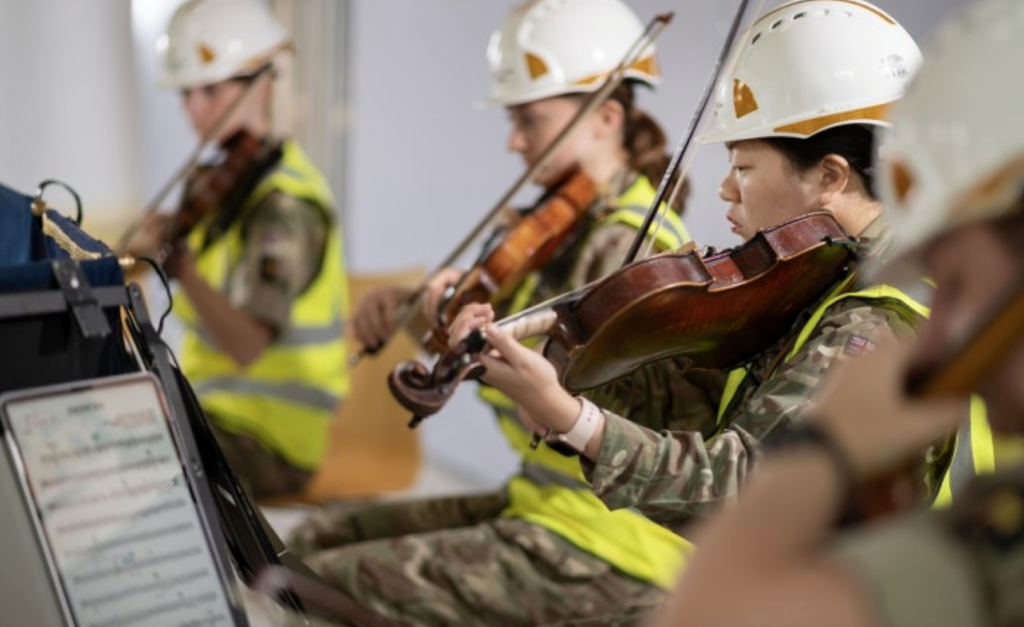 A new band facility has been built at Royal Military Academy Sandhurst to house and support musicians who serve in British Army Band Sandhurst.
A topping out ceremony took place at Royal Military Academy Sandhurst on Wednesday 13 September, marking the formal completion of building works on a new c.£12 million band facility. Military officials and project partners from the Army delivery team and Defence Infrastructure Organisation attended the ceremony to celebrate the project's progress.
The purpose-built facility has been designed to house and support the talented musicians who serve in British Army Band Sandhurst, offering a modern and acoustically optimised environment for rehearsals, performances and musical collaboration.
The new facility can accommodate all 54 members of British Army Band Sandhurst, which performs at passing out parades and Sovereign's parades, as well as supporting military sporting events and dinner nights with smaller ensembles. The new and refurbished buildings feature an instrument store, music library, offices, rehearsal rooms, storage, changing and toilet facilities, and a crew room. The facility also has sustainable features, with two of the blocks being installed with solar panels and heat source pumps.
Major General Richard Clements CBE, Director of Army Basing and Infrastructure said: "I am delighted to see the excellent progress on these modern, bespoke facilities for British Army Band Sandhurst and I congratulate the project team on reaching this significant construction milestone. We trust this building will become a flagship facility to inspire future generations of Army musicians, who play such an important role in enhancing the reputation of UK Defence both at home and on the global stage.
"The project is being delivered under the Defence Estate Optimisation (DEO) Army Programme, which is investing £3.35 billion over 10 years across 35 projects. The programme aims to improve the lived experience for soldiers by delivering an effective and sustainable Army Regular estate."
Hazel Ide, Senior Programme Manager for the Defence Estate Optimisation Programme said: "This project has brought old and new together brilliantly, reflecting the history of this site alongside a new, state of the art and very modern facility.
"The teams, DIO, Army, the site personnel, Wilmott Dixon, HLM and Pick Everard have worked together to resolve issues, understand risks, and come up with innovative solutions to some challenging problems to keep the project on track. Only by working together could we have delivered this project the way we have."
Adam Worrall, Director at Willmott Dixon said: "I am delighted to be part of such a unique project that will serve as a sanctuary for musical talent within the Army. It will provide a new and modernised building that is high-quality and fit for purpose. I am looking forward to seeing its further progression over the coming months."
Construction will complete in 2024.
image: Peter Langdown Photography
If you would like to read more stories like this, then please click here