Digital Consultation Launched for OxCam Arc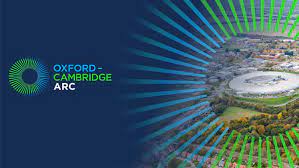 Residents throughout the Oxford Cambridge Arc, who have an interest in the area, will be able to have the opportunity to contribute to the long-term development of the area, as part of a newly launched Government consultation.
A new plan, which aims to enhance infrastructure, environment and new development in the counties of Oxfordshire, Buckinghamshire, Northamptonshire, Bedfordshire and Cambridgeshire, will be developed by the UK Government, informed by engagement with local communities and stakeholders, with the plan having sustainability at its core.
The public consultation is the first of three which will guide a new Spatial Framework over the next two years, and a digital platform has been created that will make it quick and accessible for people who live, work and have an interest in the area and want to make their voices heard.
Comments received in the consultation will help create the Spatial Framework's vision for the area to 2050, and will also help to guide local planning and investment decisions in four areas:
The environment
The economy
Connectivity and infrastructure
Place visiting
The consultation is also looking for views on the work the Government has done to set the scope of the Sustainability Appraisal and can be found here.
The Government has also announced that a new expert panel will advise on sustainable economic and housing growth in the Arc. The panel will be chaired by leading development and regeneration expert Emma Cariaga and will advise the government on issues ranging from design and sustainability to delivery and investment models.
Housing Minister Rt Hon Christopher Pincher MP said: "This is a big step forward for the OxCam Arc as we have launched an innovative digital consultation with the public, including those that live and work in the Arc, so that everyone has a chance to have their say.
"This is a fantastic opportunity for people across the Arc to make their voice heard and help create the future for their community that they want to see.
"Both the Spatial Framework consultation and Expert Advisory Panel will help us to ensure the Oxford-Cambridge Arc will be a great place to live and work – now and in the decades to come."
The panel's primary area of focus is between Bedford and Cambridge, where the government is examining opportunities to bring forward well-designed, inclusive and sustainable places.
Other members will include industry leaders, local representatives and subject area experts from a range of disciplines, who will work with local government and other partners to inform the panel's advice. The full panel will be confirmed in due course.
Transport Minister Chris Heaton-Harris said: "The East West Rail project plays an important role in enabling connectivity within the OxCam Arc and will help us build back better from COVID-19.
"We've committed £760 million to the first phase of EWR, which will support improved access to jobs and other opportunities in the area as well as boosting economic growth in the region more widely."
If you would like to read more stories like this, then please click here