Key sustainable tech for homes in UK first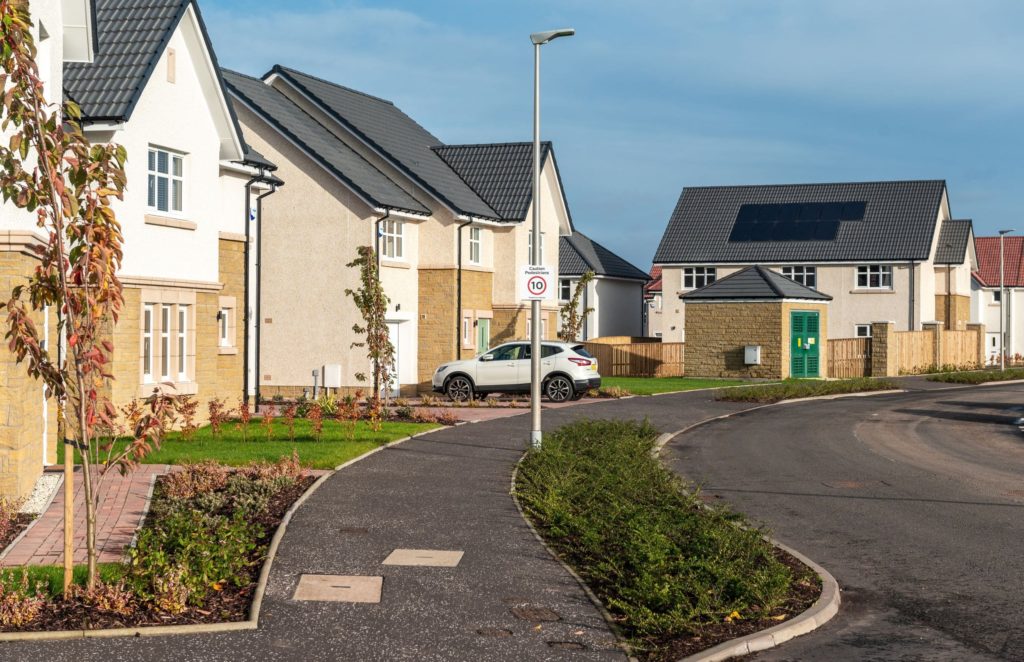 In a UK first, new innovative technology has been used by major housebuilder Cala Homes to improve green credentials of a housing development.
The technology could enable new communities across the nation to become significantly more sustainable.
Decarbonising the grid
Cala Homes is working with E.ON, Energy Assets and SP Energy Networks to pilot a bespoke solution which helps harness green energy to work towards decarbonising the grid – tackling a huge barrier faced by the industry as it seeks to become more sustainable.
The dynamic technology is being piloted in an initial 77 homes at Cala's flagship development within the new 800-home Maidenhill community in Newton Mearns, near Glasgow, with plans to roll it out further thereafter.
The solution is designed to allow energy generated in a home – for example through PV panels – which is not consumed right away to be exported and used elsewhere, either in other homes in the area or into the grid. It also ensures the energy being transferred to the grid does not exceed its maximum load.
Energy gateways
Through gateways installed in each home, the smart solution manages the energy flows, enabling the connection of technologies like PV panels, air source heat pumps and electric vehicle charging points to work in harmony.
By allowing the load of green energy within a large development to be managed without overwhelming the grid, Cala believes it will have more opportunity to roll out sustainable technology, contributing to the net zero operation of homes.
Without a solution like this, certain sites would require significant investment in additional substations, which could make them unviable, but Cala believes that with this smart load management system, the possibilities for creating, harnessing and using green energy are greatly enhanced, offering wider implications for housebuilding across the UK and beyond.
Building sustainable communities
Stephen Kelso, Group Product Design Manager for Cala Homes, said: "Building more sustainable communities is a huge task for the housebuilding sector and a major focus for Cala. New, innovative technology is vital to this, and we've been researching and trialling tech that can help us make net zero carbon a reality – but it's not a case of just switching this on. The right infrastructure needs to be in place to support it.
"Communities like Maidenhill – with 800 homes overall, a new primary school and community amenities – have huge implications for the availability and use of energy. Making a site of this size as sustainable as possible brings additional considerations and puts more pressure on the grid. So, we asked the question: how do we meet this challenge and allow a development like this to fulfil its green energy potential?
"The result is what we believe to be a unique collaboration between a housebuilder, energy company and network operator to find a solution. The technology developed by E.ON is the first of its kind in the UK and there are plans to roll it out in other territories."
He continued: "Enabling technology like this opens up a world of low carbon elements that we can install in homes and neighbourhoods to help work towards our net zero aspirations. Our homeowners and their communities will see the benefits too, with more efficient and sustainable homes meaning potential energy and money savings.
"We are excited to see what impact this revolutionary technology might have on the sector as a whole, as we work towards a greener future."
If you would like to read more stories like this, then please click here