Somerset unveils Dutch Hillblock flood defence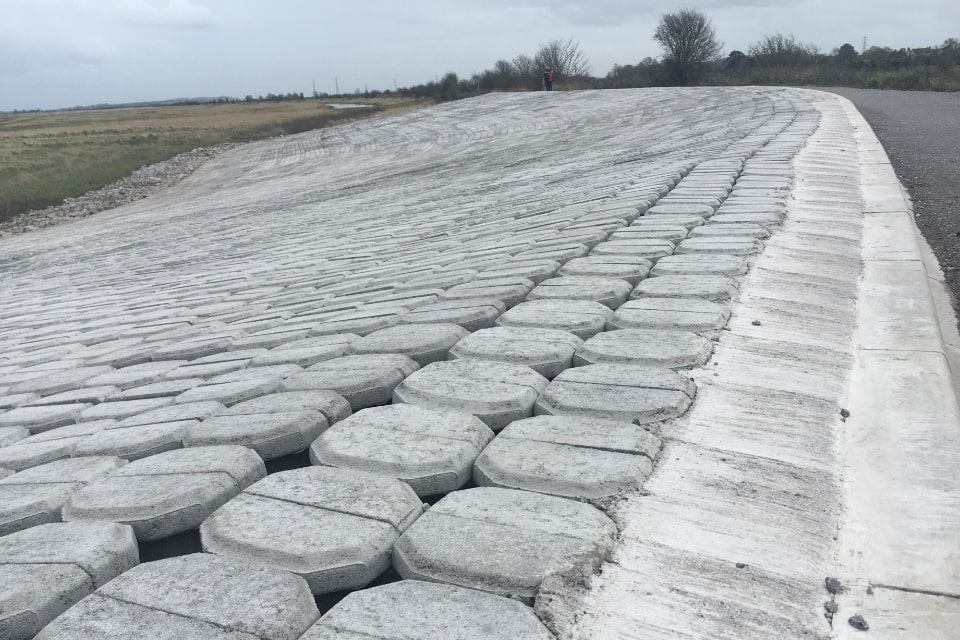 A Somerset town has built a Hillblock flood defence based on Dutch design to reduce floods and erosion.
The Hillblock flood defence is designed to absorb the force of waves and withstand erosion through concrete armour. The town of Stolford has been increasingly facing floods due to rising sea levels, extreme weather, and erosion, and has installed the concrete revetment design pioneered in Holland.
Standard rock armour is costly and takes up a lot of space but the Hillblock design features tesselating cork-shaped blocks of highly dense concrete which reduces the impact of wave runup and requires fewer materials. The technology has been used across Holland in coastal defences.
Joan Curtin, Executive Director of Flood and Coastal Risk Management at the Environment Agency, said: "This is exciting engineering first for UK – the new technology installed at Stolford can reduce wave energy by up to 30 per cent compared to the shore protection traditionally used. It will provide valuable protection to this Somerset community and the surrounding agricultural land."
"It is also a great example of our joint work with the Dutch government, with whom we have a long history of mutual sharing of knowledge and best practice in the management of floods and climate change."
The defence will provide immediate protection to 20 properties, 70 hectares of agricultural land, and the local access road. Previous high tides in the 80s and 90s caused extensive damage to the coast and to hundreds of hectares of land.
Funding for the £1.5million scheme comes from the Wessex Regional Flood and Coastal Committee via the Local Levy and the new Hinkley Point Power Station currently under construction nearby. The Dutch Government also contributed £10,000 through the Partners for Water scheme which promotes Dutch innovations across the world.
The design also allows for continued public access and preserves habitats in the area. It also removes the need to replace and upkeep components of the armour, which previously cost the Environment Agency £50,000 a year.
If you would like to read more articles like this then please click here.
If you are interested in finding out more about key infrastructure trends today, you may wish to attend the flagship infrastructure exhibition at the NEC in April 2019: UKIS 2019
Register for your delegate place now: UK Infrastructure Show 2019.