Southwark Construction Skills Centre gains training with electric excavator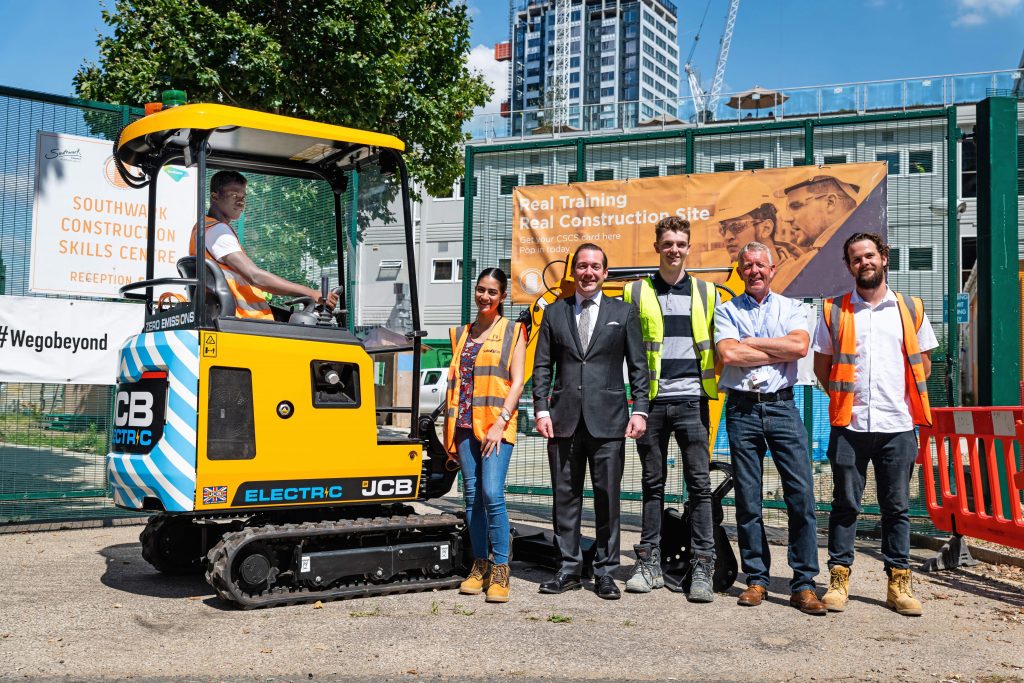 Construction and engineering students at the Southwark Construction Skills Centre (SCSC) in London have recently benefitted from the provision of training qualifications in zero-emission electric plant, courtesy of the centre's recent partnership with JCB.
Specifically, students were given training on how to use the JCB electric excavator, known as the JCB 19C-1E, at the Elephant Park site in South London where a sustainable urban regeneration project has been commissioned by a partnership of the Southwark Borough Council and the company Lendlease.
The General Manager of the SCSC, John White stated: "As our development partner Lendlease has committed to the Elephant Park project being climate positive by 2025, The Skills Centre has an important role to promote sustainability across the site and to the local community. To that end, it is a real asset to be able to offer our students the chance to train on the innovative JCB zero emission machine.
"The JCB 19C-1E is an innovative product delivering environmental improvements and it will be invaluable in training local people on the most revolutionary technology. We are thrilled that JCB are working with us to educate the constructors of the future with the most pioneering plant machinery on the market."
The General Manager of the JCB London Office, Charles Stevenson added: "JCB is leading the way in clean technology and reducing harmful emissions, especially in urban, air-quality-sensitive environments such as utility works. We are delighted to be able to support the SCSC in offering the world`s first zero emission plant training course at a facility recognised for its excellence by the Mayor's Construction Academy.
"With the drive towards lower emissions, the JCB 19C-1E will allow contractors to work inside buildings and in emissions-sensitive inner-city environments. The external noise of the electric excavator is also five times less than its traditional diesel-powered counterpart, allowing contractors to work after hours in urban streets without disturbing residents, as well operating in other noise sensitive environments such as hospitals and schools."
If you would like to read more articles like this then please click here.