Competitor firms collaborate to house army personnel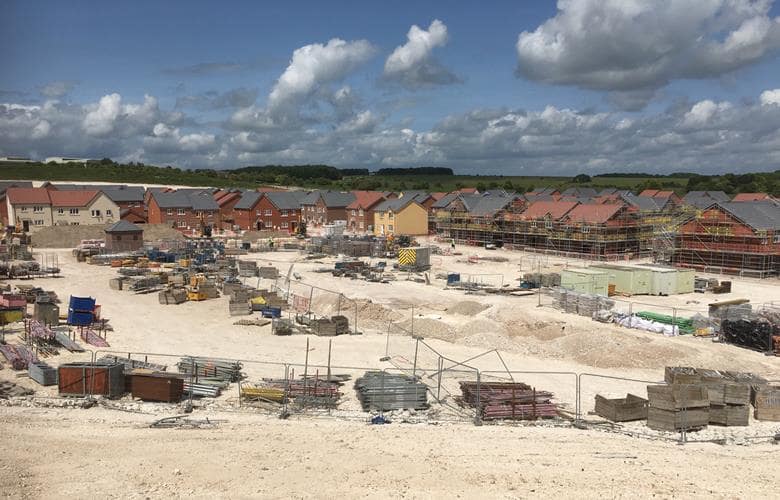 Two competing timber supply firms are collaborating on a project to house British Army personnel returning to the UK from bases in Germany.
The two timber firms, Stewart Milne Timber Systems (SMTS) and Taylor Lane Timber Frame, have been chosen by the contractor Lovell to provide the frames for 450 Ministry of Defence homes that will be constructed on Salisbury Plain in Wiltshire for completion by May 2020.
The collaboration began when the two individual firms were working on separate sites, SMTS working at Ludgershall while Taylor Lane worked at Bulford, before the two were charged with the operation which now runs at the Larkhill site.
The Larkhill site, on Salisbury Plain, covers an expanse of 30 hectares with each firm responsible with the supply of timber to 225 homes each, resulting in the delivery of 16 units of timber to the site per week.
Alex Goodfellow, Group Managing Director at SMTS, stated: "Larkhill on Salisbury Plain is an exemplar project highlighting what can be achieved through collaboration within the industry.
"It is rare for two competing firms to work together on such a project, but through sound communication and clear direction by Lovell from the outset, we are working well together to deliver on Lovell's largest ever pure contracting scheme.
"Both firms are collaborating, sharing best practice and value engineering across all levels of the operations to make the process efficient and the product as high quality as it can be. It is a fantastic project to be part of and working with both Lovell and Taylor Lane highlights the success that can be achieved through collaboration."
The collaboration itself is a part of an initiative by the Defence Infrastructure Organisation which aims to construct 917 homes on the Larkhill, Ludgershall, and Bulford sites which will house military personnel returning from British Army bases in Germany.
Barrie Lane, Managing Director at Taylor Lane Timber Frame, added: "The success of this project to date is directly attributable to the professionalism, focus and dedication of the project teams.
"Everyone played equal parts in making this job work. The relationship with the client is key and their understanding of our requirements and collaborative attitude helped make this joint development an outstanding success."
The Defence Infrastructure Organisation's initiative functions as a branch of the Ministry of Defence's 're-basing programme' and aims to re-settle military personnel on the Salisbury Plain where training for the British Army has taken place since 1898.
If you would like to read more articles like this then please click here.