Fly-through for state-of-the-art USW sporting facility unveiled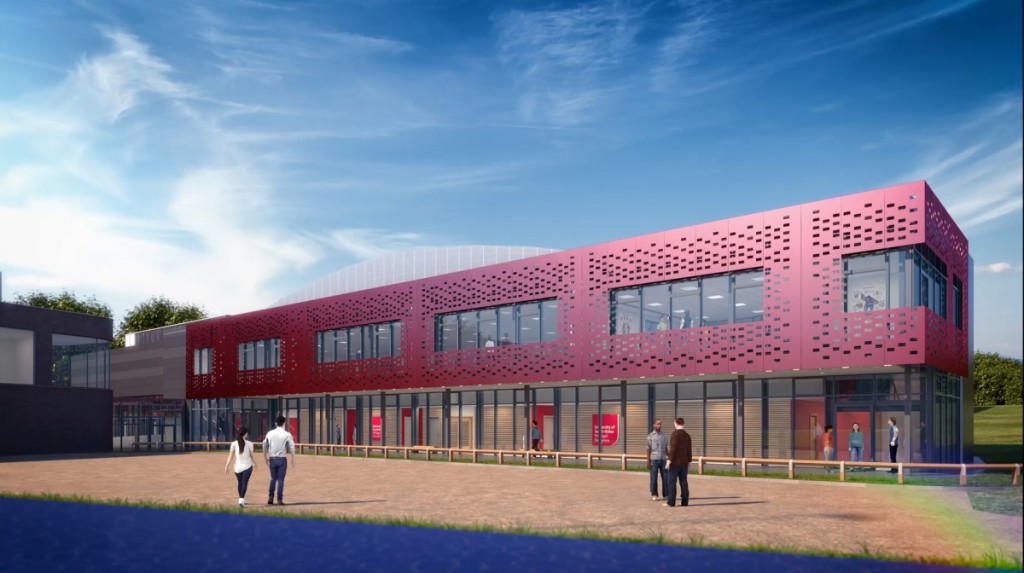 A sneak preview of a purpose-built sporting facility on the grounds of the University of South Wales (USW) has been unveiled.
The newly released visualisation gives early insight into the state-of-the-art USW Sport Park extension, sited close to the University's Pontypridd Campus in Treforest.
A full-size 3G indoor playing field – which meets stringent FIFA and World Rugby standards – will be housed within the facility, alongside a specialist centre for strength and conditioning with 12 lifting platforms, changing rooms, teaching space and offices. In total, Sport Park will span an additional 9,500sq ft of floor space.
Dr Martin Steggall, Dean of the Faculty of Life Sciences and Education, had this to say: "The introduction of world-class facilities at our USW Sport Park will not only benefit students on our sport courses and our students that represent the university in a variety of sports, but also build on some of the sector-leading research in to physiology, strength and condition, and sports psychology, to name just a few of our strengths.
"The facility is already well used by the local community and professional teams, and this is something that we hope to expand on in the future. We are not only investing in pitches, but also in strength and conditioning and analysis facilities that will support our students in developing all aspects of their sporting excellence."
The Sport Park extension is being delivered by Kier Construction from an Atkins design. Project and cost management services come courtesy of Pick Everard, which was appointed via the Scape Project Management and Quantity Surveying Framework – now superseded by the Scape Built Environment Consultancy Services Framework.
Mark Robinson, Scape Group Chief Executive, said: "This project is a fantastic example of intelligent, highly efficient design, and will create a first rate research facility for University of South Wales students and staff. By using our framework, the scheme will utilise a local supply chain network and create training opportunities for local people."
Mike Petersen, Director at Pick Everard, added: "This new facility will provide the very best in modern sporting facilities for the University – and will include the very first full-size indoor 3G football pitch in Wales. We have a great deal of experience of working within the higher education sector and are very pleased to be working with the University of South Wales on what is an important project."
If you would like to read more articles like this then please click here.