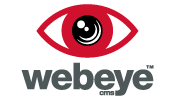 Webeye Limited attended the ASIS Security Exhibition in Anaheim California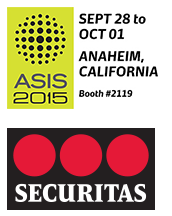 As guests of Securitas (USA), Clive Mason, Managing Director and Paul Ellis, Sales Director of Webeye Limited visited the stand to show case webeye CMS – voted the World's best cloud security software*.
Reason of the visit.
Webeye Limited attended the ASIS Security Exhibition in Anaheim California between the 28th September and 1st October 2015 as the guests of Securitas (USA). "Securitas has made the strategic decision to include us in their Hi Tech guarding offering", Stated Managing Director, Clive Mason, for Webeye. "This is a significant collaboration between the two organisations and signifies a move by major security guarding companies to embrace a combination of technology and guards in an effort to save costs, whilst enhancing services".
As Webeye can create multiple and virtual monitoring environments and can deliver video alarms to smart phones, the only limitation for Securitas is the number of guards on duty at any one time. "The limitation of the number of Operators that can fit into a physical monitoring station meant that the use of hi tech in volume had been problematic, Webeye answers this concern", he continued.
The main role for Webeye at the exhibition was to introduce the platform to the US regional managers of Securitas. The exhibition was a great success and in the days following Securitas announced a number of measures that included the purchase of an Installation company, Diebold, in order to realise their goal.
Reasons for the appointment
Securitas was amazed by the functionally and reliability of the cloud-based platform for such a low cost. They appreciate the huge savings and increases in efficiency the webeye cms platform can bring to their organisation. Putting 'more boots on the ground' is not a sustainable way to grow a multi-national company such as Securitas and Webeye's unique combination of robustness and auditing make us ideally placed to offer a solution to what they call Hi Tech Guarding. For example the webeye cms browser allows them to setup their own monitoring stations with minimal cost. All that's needed is a modern browser. With a smart phone, webeye cms takes over the role of human beings by automating the alarm receipt, alarm handling and alerting alarm recipients. Combined they provide the ultimate protection.
Webeye cms is a fully managed professional monitoring solution. The alarm receipt and delivery goes direct to the user and because the alarm is automatically audited and archived it is the perfect management tool. The system is not limited by human capability or errors making it infinitely more reliable. The system has unprecedented checks and balances and the escalation process makes us unique in the market place and ideally placed to fulfil the increasing monetary constraints and greater efficiencies required within the security industry.