Britain needs a skills upgrade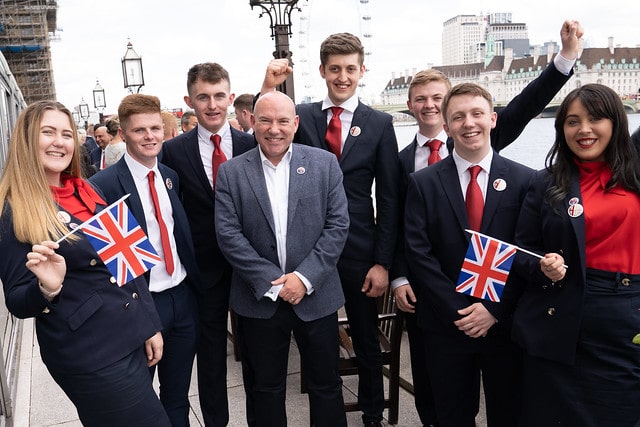 The UK is in urgent need of a 'skills upgrade' to meet the economic challenges post Brexit according to Dr Neil Bentley-Gockmann OBE, CEO of WorldSkills UK.
The message was delivered as he oversaw final preparations for Team UK – an elite team of 37 highly talented young women and men who take on the world's best in August.
Speaking to BBC correspondent Simon Lederman he said: "Skills are integral to the UK economy – there is nothing more important to the UK's future than having an economy that's functioning and internationally competitive.
"My message to the new PM: we need a skills upgrade and it needs to be world class in technical education. The current government has recognised that through its policy reviews – now it's time to put that in to action.
"WorldSkills UK and the work we do with WorldSkills internationally can play an integral role in helping the new PM deliver on that to upgrade the skills system and make it world class.
"We have a 66-year track record of competing internationally and winning medals on the world stage. If we want to be really successful as Global Britain and want the economy to grow, then working with WorldSkills UK is part of the answer"
WorldSkills UK selects, trains and manages the nation's best young students, apprentices (and former apprentices) in dozens of different skills disciplines and harnesses international best practice to help business and education mainstream it to boost productivity and the economy.
Team UK take on the World's best at the WorldSkills Finals (known as the 'Skills Olympics') in Kazan, Russia from August 22 – 27 where they will do battle to win Gold, Silver or Bronze in their chosen skill.
Teams from more than 70 countries and regions will compete in 56 disciplines ranging from cyber security, 3D Game Design, to plumbing, painting & decorating, electrical installation, cooking and floristry in an enormous purpose-built structure outside the Tatarstan Capital, which is 800km east of Moscow.
The members of Team UK have been selected after first excelling in the WorldSkills UK Competitions, which are designed to equip young people with the skills needed to help UK businesses better compete globally, and then the completion of a two-year rigorous training programme devised by WorldSkills UK and has been supported by employers and colleges
Dr Bentley-Gockmann said: "Preparations are going fantastically well – they have been doing huge amounts of training and international pressure testing to get themselves technically ready to compete, but we take a holistic approach to performance.
"We have to learn how to mainstream excellence, that's our big challenge – we are not doing that consistently enough in this country. The training methodology behind the country being world class sits within this skilled elite.
"We need more young people and their parents to start thinking about apprenticeships and technical and are using the brilliant young people in Team UK to be icons to attract the next generation to follow in their footsteps."
If you would like to read more articles like this then please click here.