The Net Zero Carbon Journey – Next stop, Embodied Carbon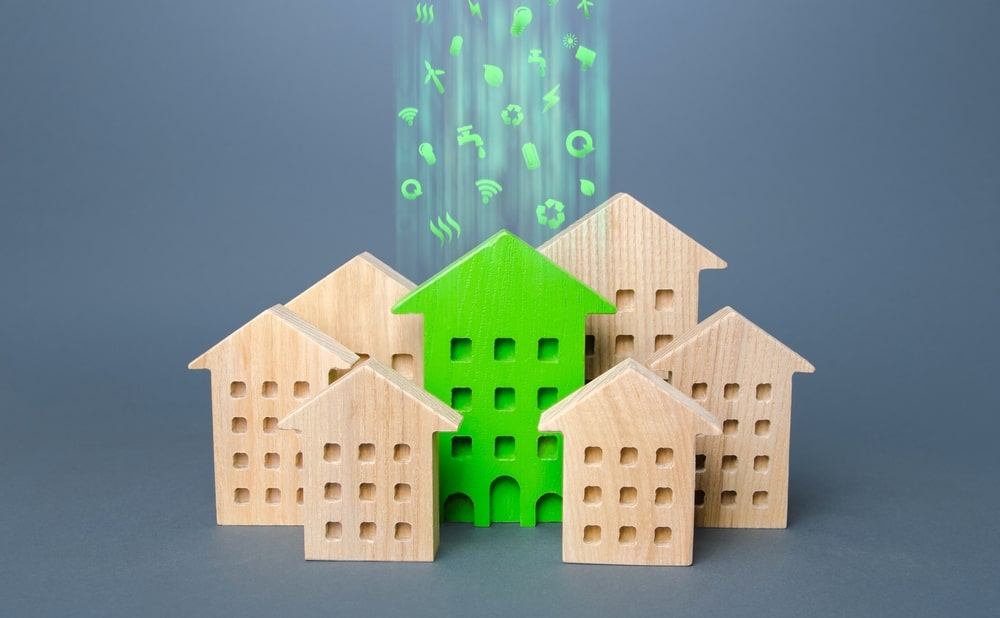 This month you will hear the words 'net zero carbon' in the news, on social media and in conversation, perhaps more than ever before as the COP26 UN Climate Change Conference was held in Glasgow.
But the truth is, in the public sector construction arena, we have been talking net zero carbon for some time. 
Some of the best examples we have seen are in Higher Education. There are many reasons for this, but critically we need to consider the motivations in this sector. It is an environment where the people are studying, teaching or researching the issue, so tend to be more invested. The pressure to attract future students is also relevant here – a generation who are engaged and concerned with climate change and carbon reduction. 
A similar concept applies to tech or science hubs. Take for example, the Ada Lovelace building for Exeter Science Park, a joint venture between Devon County Council, the University of Exeter, East Devon District Council and Exeter City Council. The office and laboratory space for SMEs working in STEMM was built with net carbon zero and with no extra cost for doing so. It is a property which targets high tech start-ups as tenants and needs to be attractive to people where environmental considerations are relevant and important.  
There have been some great examples across other sectors too – but we are still seeing evidence of old habits, where the sustainability credentials of a building are considered too far along the design process.  
We know that net zero carbon in operation can (and arguably should) be achieved in new build projects.  I would argue that in most cases, it should become the standard.  
Embodied carbon – a complex challenge 
Our next greatest challenge in sustainable building is how to reduce embodied carbon. This is the sum of the carbon released in the construction of the building (in contrast with its operation after completion).  This includes everything from the extraction and manufacture of materials used in construction to how they are transported through the supply chain. It also includes the replacement parts over the lifetime of a built asset and how it is disposed of at the end of life. 
The task of reducing embodied carbon in a property is considerable with many unknowns. But it begins with understanding where your embodied carbon comes from, how you can recognise it and take control.   
Collaboration is key 
Your contractor partners (and indeed your framework if you have chosen this route) can play a crucial role in supporting your decision making around the supply chain. By offering transparency and choice of suppliers, many of whom will themselves be able to demonstrate provenance of materials, they can help you begin to build a picture. 
Many contractors will also be able to offer a carbon assessment of materials at the project costing stage to help you understand both the financial cost and carbon cost of materials through their own bespoke tools. At SCF, we have introduced our own Net Zero Carbon tool to offer guidance on the definitions, drivers and methodology associated with Net Zero Carbon and the construction Industry 
The single most influential factor on embodied carbon is whether you need to build at all. At the earliest possible stage in your design process, take the advice of your consultant of your contractor to understand whether new build is the best solution for you. Can a retrofit also meet your needs? How will new hybrid ways of working impact the use of your buildings in the future? Can you use your existing estate in a different way to meet your goals of increased capacity or change of use? It doesn't mean you can't have a statement building. 
Of course, a refurbishment carries its own risks, but this should be a consideration. 
Commercial vs environmental cost? 
Perhaps the greatest barrier to reducing embodied carbon in construction projects is that it is so often seen as a debate between the environmental and the commercial cost.  
Take, for example the frame of a building. It will likely be made of steel or concrete, both carbon intensive materials which are imported from abroad. Reducing the carbon in this would essentially be a replacement of one widely used material with a more expensive one such as timber. 
Yet, the discussion around reducing embodied carbon is more complex and nuanced than this. 
It doesn't have to be all or nothing.  Sometimes a little investment in the right place can make a big impact in carbon reduction. There will be a sweet spot for each project. 
Aside from the arguable moral obligation and social responsibility there is huge reputational value which can be gained from demonstrating a reduction in embodied carbon. The public consciousness is becoming increasingly atune to the climate crisis, with growing expectations on service providers (in the private and public sector) to act in a more sustainable way    
Action to reduce embodied carbon is also a means by which we can see greater collaboration in the supply chain with the sharing of data and of new processes to measure and manage it. In the future, this could be a USP for your campus, school or workplace. What's more you could argue that you are future proofing your estate by proactively reducing the embodied carbon in any new build or restoration projects before we are ultimately forced to by legislation. 
When we are talking about sustainable buildings embodied carbon needs to be central to the debate. A growing awareness of its sources and collaboration with your construction stakeholders – your framework consultants and contractors – is a good way to begin to measure and manage embodied carbon now and in the future. 
Article submitted by:
Kingsley Clarke, Framework Operations Lead, Southern Construction Framework 
If you would like to read more stories like this, then please click here