Video: World's first multi-span cable-stayed bridge opens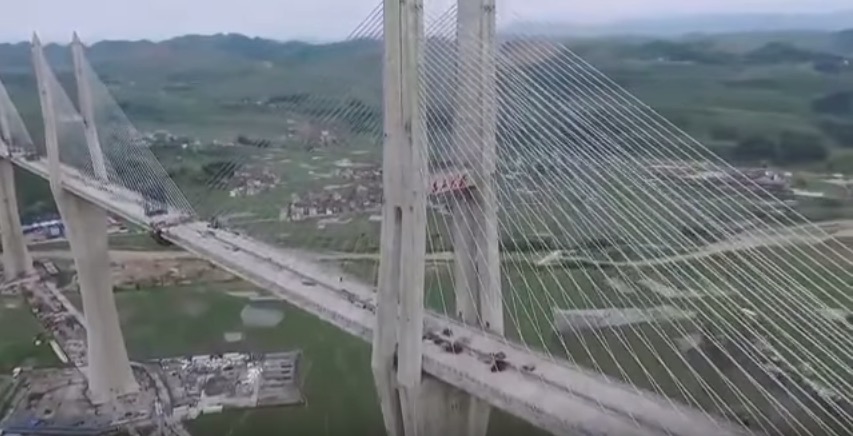 The world's first multi-span cable-stayed bridge has opened in central China's Hunan province.
The Chishi Grand Bridge is believed to have the longest span of high-pier, multiple-pylon, concrete cable-stayed bridges.
Work on the project began in March 2010 and opened to traffic on 28th October 2016. It spans 4,920 feet across the valley with an average height of 885 feet.
The bridge was originally planned to open in 2014 but work was delayed on the project following an accident.
The main contractor was the China Railway Major Bridge Engineering Group (CRMBEC), who owned and operated the Potain tower cranes used on the bridge construction.
Six tower cranes spent 30 months building two 918-feet-tall bridge pylons.
The cranes built two of the bridge's four pylons, each of which has 24 exterior sides and 36 interior sides, forming a unique S-shape structure.
The bridge is part of the Xiamen-Chengdu Expressway, which links Hunan and other provinces, including the Pearl River Delta, the Chengdu-Chongqing Economic Belt, and the Fujian-Taiwan Economic Belt.
China is investing over $720Bn on 303 transport infrastructure projects over the next three years.
UK Construction Online recently reported on the main section of the world's longest sea bridge being connected. The bridge will be 55Km long and will connect Hong Kong, Macao and Zhuhai – the three largest cities in the Pearl River Delta region.
If you would like to read more articles like this then please click here