BREEAM 2016 Award winners announced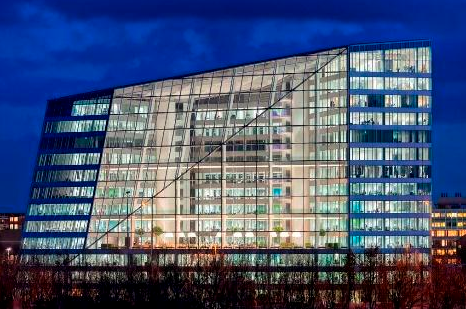 The Edge, Amsterdam takes BREEAM top award
Last night the winners of the BREEAM Awards 2016 were announced, at a ceremony held at the London Marriot Hotel, Grosvenor Square.
Currently celebrating its 25th anniversary, BREEAM is the internationally recognised measure of sustainability for buildings and has helped to shape our environment with buildings that positively contribute to the environment and communities.
BREEAM has issued more than 530,000 certificates on more than 24,000 projects around the world, and over 2.2 million buildings and communities are registered for certification in more than 70 countries.
Covering a variety of sectors, including residential, commercial, education and health, the awards were given to a variety of winners with the highest BREEAM scores in 2015.
The winning buildings are some of the most innovatively sustainable buildings in the UK and countries across Europe, including France, Holland, Sweden and Turkey.
Speaking at the ceremony, BREEAM Director Gavin Dunn said: "These awards embrace a range of property types, developed for very different budgets, business drivers and locations. But the inspirational projects have a common aim: they are all delivering sustainable value. Property investors and owners are seeing improved return on investment and reduced operating costs. Occupants are enjoying healthier, more comfortable indoor environments and more productive workplaces. Our environment benefits from these projects' responsible use of natural resources. These are quite simply better properties to buy, own, live and work in. Congratulations to all winners and to all those shortlisted."
The winning buildings were:
Enterprise Centre, University of East Anglia (Education and Healthcare)
ECOstyle Warehouse, Oosterwolde (Industrial)
Five Pancras Square, London Borough of Camden (Mixed Use and Other Buildings Award)
ANM AMRO Headquarters, Amsterdam (Office In-Use Award)
The Edge, Amsterdam (Office New Construction Award)
Noda, Coca Cola, Paris (Office Refurbishment and Fit-Out Award)
Courtauld Road, London (Residential Award)
Kanyon, Istanbul (Retail In-Use Award)
Torsplan, Stockholm (Retail New Construction)
The night also saw the first BREEAM New Talent Award (designed to recognise successful students of the BREEAM Accredited Graduate (AG) course) which was given to PhD student at University of Reading Mitchell Curtis.
Design and Engineering consultancy, Grontmij, were pleased to be awarded as BREEAM Assessor Company of the Year, with individual Assessor of the Year awards given to: James Warne, Boom Collective, Kartik Amrania, Grontmij and Magdalena Krause, CH2M Hill.
While the highly coveted people's prize – the Your BREEAM Award  – which gives members of the public the chance to vote for a BREEAM building they love, was given to OVG Real Estate for the Edge in Amsterdam.