UKTI DSO and MBDA event offers potential business for elite SMEs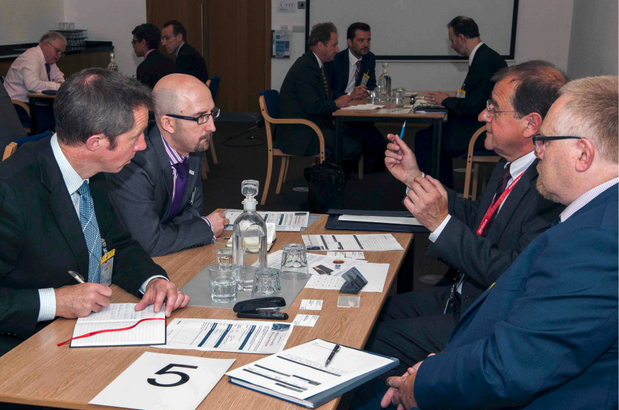 Hand-picked UK Defence and Security SMEs given chance to work with MBDA.
33 UK defence and security small and medium enterprises (SMEs) were granted the opportunity to collaborate with MBDA, one of the UK's leading defence contractors, at a 'Meet the Technologist/Innovation Day' held on 30th June.
This marked the first occasion that MBDA had worked in collaboration with the UK Trade & Investment Defence & Security Organisation (UKTI DSO) Small Business Unit (SBU) to host such an event.
Over 7,000 UK SME's were contacted to attend the event but the strict requirements of MBDA meant that only 63 companies made it through the initial selection, with ultimately only 33 UK SMEs invited to attend.
The event also had representatives from Innovate UK, the MoD Centre for Defence Enterprise, the UKTI DSO Small Business Unit and the UKTI DSO Military Export Support Team.
The opportunity granted to these 33 elite SMEs has given them the aspiration of winning contract work with MBDA. The idea behind the scheme is that the supply chain created by working with larger established companies (primes) provides SMEs with a potentially lucrative outlet for their products and services, and allows them to be included in large export orders. The primes also benefit from this link up as it encourages innovation and increases the size and versatility of supply chains, which ultimately aids primes to fulfil their contract obligations.
One-to-one technical sessions were held, with each SME having private appointments with an MBDA technologist lasting at least 25 minutes. Due to the nature of the selection process implemented by MBDA, it is hoped that a high percentage of the SMEs will be able to go on and secure supply chain or other contract business with the company.
Philip Dunne, Secretary of State for Defence Procurement, attended the event. During his keynote speech, Mr Dunne told the audience that the defence procurement budget was in good health and would be able to provide many opportunities for UK SMEs to win business.