Construction Output Falls in April 2021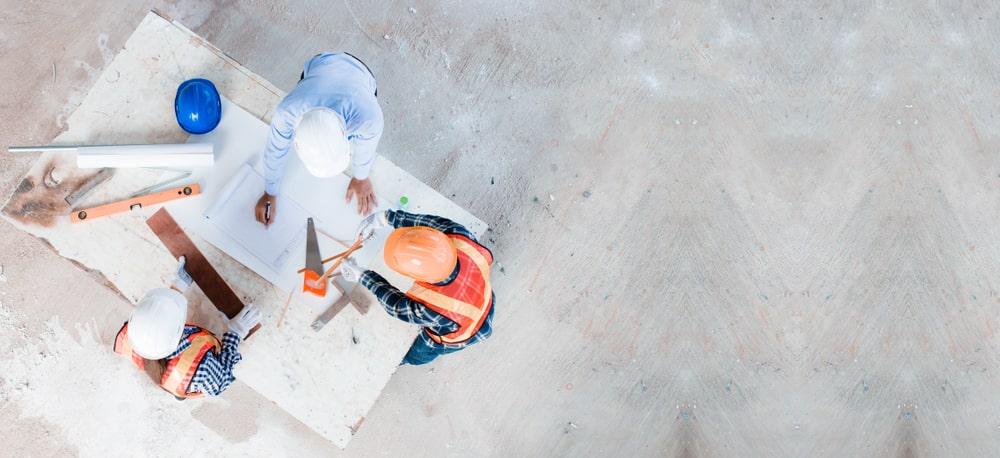 Construction output in the UK for April fell by 2% when compared with March 2021 according to the latest figures released by the Office for National Statistics (ONS).
This contrasts with the strong increase in March of 5.8%. New work continues to be subdued with repair and maintenance stronger.
The reason for the 2% fall in construction comes from declines of 2.9 % in new work, and of 0.6% in repair and maintenance.
The level of construction output for April 2020 remains 0.3% above the pre-COVID level of February 2020, despite the month on month fall. New work is still 3.4% below its February 2020 level while repair and maintenance work remains 7.1% above the February 2020 level.
In the three months to April 2021, construction grew by 5.1% compared to the previous three-month period, due to a 5.2% increase in new work and a 4.9% increase in repair and maintenance.
The 5.2% increase in new work in the three months to April 2021 is thanks to growth in all new work sectors with the exception of private industrial, which fell by 3.6%. The largest contributor to the growth was private commercial new work, which grew by 7.4%.
The increase in repair and maintenance (4.9%) in the three months to April 2021 was thanks to growth in non-housing and private housing repair and maintenance, which grew by 6.2% and 6.6% respectively.
Sean Keyes, Managing Director of civil & structural engineering firm Sutcliffe, said: "The latest Construction ONS figures have shown a slight 2% drop in April, however after the strong increase of March, which coincided with the loosening of Covid restrictions, I am not concerned by this decrease.
"The UK economy is bouncing back with the recent news of 2.3% growth, and despite the slight drop in the construction sector, we have seen positive signs that the future is bright across the country, with the sector continuing to meet its demands.
"There has been a minor problem in terms of accessing supply and material, but that hasn't held up any of our projects and, with the industry as a whole working flexibly to order materials with a longer lead-in period to minimise any delays to projects, I expect to see figures on the rise again next month."
Stuart Law, CEO of the Assetz Group, which has lent over £1.5bn to UK housebuilders, said:  "While we need to understand factors that could be holding the market back month on month, we also need to try and take a longer-term view. Despite challenging market conditions, the three-month comparison shows a 5.1% growth in overall construction output, including growth in housebuilding and other key sectors, like private commercial which grew by 7.4% in the same period. This should be cause for optimism, particularly as we are still early on in our economic recovery from the pandemic, and construction firms, housebuilders, and developers are all contending with specifically acute difficulties in procuring raw materials because of backlogs related to Brexit and Covid19.
"Given these conditions I would expect monthly figures to show peaks and troughs right now. However, longer-term, there is incredible demand for new housing from buyers who have re-evaluated their lifestyle during the pandemic and are now keen to continue working from home, while relocating to properties that offer more space and better access to nature outside of major urban hubs. This is a trend that I would expect to continue for some time, and, in conjunction with the continuation of record low interest rates, we will see sustained demand for new homes over the medium to long term. As the materials backlog eases, pricing will come down meaning more construction projects can begin and, as those pressures are relieved, continued demand for housing particularly will lead to more sustained growth in the sector, albeit this will always be tempered to some degree by the availability of materials and labour.
"We are continuing to see applications for hundreds of millions in loan funding come in from housebuilders, so we believe there is confidence in the long-term market dynamics which should lead to sustained demand for new housing and strong pricing for schemes in the right location. We expect the unprecedented level of demand and associated strong pricing to outweigh inflated build costs as developers assess scheme viability, even if materials and labour shortages persist for longer than expected. And, as we learn more about the growth zones and other planning reforms proposed in May's Queen's Speech, I would expect this to inspire even more confidence, enabling more schemes to progress."
Marco Verdonkschot, Managing Director at IronmongeryDirect, said: "One of the clearest signs of an industry recovering from hardship is its companies beginning to hire new staff once again, and the latest ONS data about UK construction shows that there are now more job vacancies in the sector than there have been at any point in the last 20 years.
"Between March and May, there were 35,000 positions available, which is a rise of 6,000 from the previous period and the highest figure since records began in 2001.
"This is fantastic news as it shows that construction businesses are optimistic for the future and confident enough financially to take on new employees.
"Such confidence may be inspired by increases in the number of hours worked by construction staff, with the average now standing at 34.7, having risen continuously since the start of the year.
"Earnings have therefore risen accordingly and between February and March, average weekly takings jumped by £33 to £675.
"Furthermore, it's not just large companies that are seeing signs of progress – the number of self-employed construction workers is also on the rise. Having fallen consistently since June 2020, the latest data shows that the number of self-employed individuals increased by 6,000 between December and March this year, from 237,000 up to 243,000.
"All of this points to a positive outlook for the construction industry and we can look forward to a bright summer."
Gareth Belsham, director of the national property consultancy and surveyors Naismiths, commented: "Growth stumbled in April but in an industry already at a full sprint, few will be concerned.
"Even with April's surprise decline in output, overall construction activity is still higher than its pre-pandemic level and sentiment remains very strong – with many builders' order books looking healthier than they have done in years.
"Nevertheless April's fall will have served as a reality check. Private sector housebuilding, which has roared back since the start of the year, saw output dip by 11% compared to March.
"Fortunately infrastructure work moved by the same amount in the opposite direction, but such volatility reveals the mixed fortunes within an industry grappling with severe supply side issues.
"Average wages are rising as employers fight to lure workers, and material costs are surging as demand far exceeds supply.
"The difficulty of getting hold of key materials like steel and timber risks knocking existing projects off course and is pushing up tender prices for future work.
"But frustrating though these issues are, they are growing pains for an industry well versed in handling boom and bust. The phenomenal rate of growth seen in the early months of 2021 was always going to be hard to maintain, and overall things are settling into a better rhythm.
"While April's month-on-month fall is disappointing, the 5.1% quarterly rate of expansion is a huge achievement and the industry's recovery from a punishing 2020 remains broadly on track."
If you would like to read more stories like this, then please click here