Defence School of Transport goes green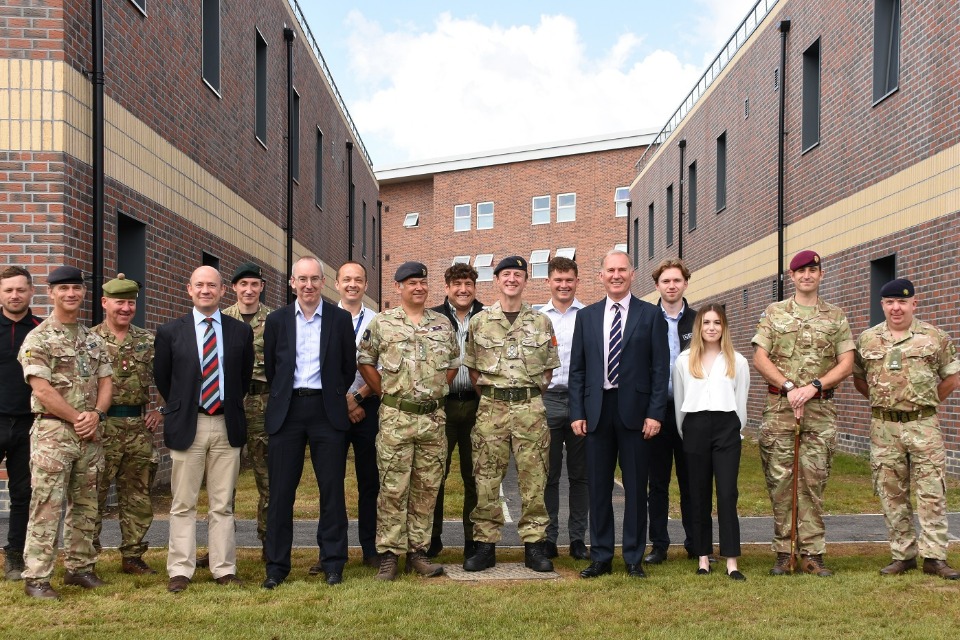 The Defence School of Transport (DST) in Leconfield has welcomed new 'green' accommodation to benefit military personnel undertaking driver training while supporting MoD Net Zero targets.
DST is the largest residential driver training school in the world, providing driver and transport management training to military personnel from the Army, RAF and Royal Marines, as well as support to global operations.
Built by offsite construction specialist Reds10, the two new multi-occupancy buildings were delivered by the Defence Infrastructure Organisation (DIO) for the Army in just nine months.
The new space will accommodate students completing short courses at DST the blocks, providing 112 bedspaces across two-to-three-person rooms, alongside ablutions, drying and utility rooms. Green features of the buildings include rooftop solar panels, air source heat pumps and heat recovery systems. SMART building technology is also installed in both buildings and will provide detailed information on their energy usage, to better understand emerging trends and lead to increased efficiency.
Baroness Goldie, Minister of State in the House of Lords said: "Enhancing the Defence estate with new infrastructure offers significant opportunities to support our people while protecting the environments in which they live, work and train. The delivery of modern, sustainable accommodation at DST Leconfield is an important step on the path to Net Zero for the Army and wider Defence.
Warren Webster, DIO MPP Programme Director – Army said: "I am hugely grateful to the project team, DST Leconfield and Reds10 for their efforts to ensure the prompt and successful delivery of this project for military personnel. The short timeframe in which this project was completed demonstrates the proven potential of modular construction, as an exemplary solution to meet the Army's requirement, achieve sustainable efficiencies and to deliver value for money for Defence."
Phil Cook, Reds10 Defence Sector Lead, said: "We are very proud to hand these buildings over to DST Leconfield. Drawing on our work alongside DIO on the award-winning Net-Zero Accommodation Programme (NetCAP), we have been able to continue our partnership with the British Army to make the building design compliant for the Built Estate, while retaining sustainability at its heart. We are looking forward to seeing the building used in the years to come."
Rather than lengthy onsite construction, Reds10 and ESS Modular use 3D volumetric offsite modular construction, incorporating features based on feedback from existing building occupants in the design of future buildings, to continually improve the 'lived experience' of Armed Forces personnel.
In addition to the multi-occupancy short course accommodation already completed at DST, the Army is exploring opportunities to make use of these innovative buildings elsewhere, with the Armour Centre, Bovington already selected as the location for the second building of this type.
Image: New multi-occupancy Net Zero short course accommodation at the Defence School of Transport, Leconfield. Copyright DST Leconfield
If you would like to join our community and read more articles like this then please click here