Euston Station redevelopment underway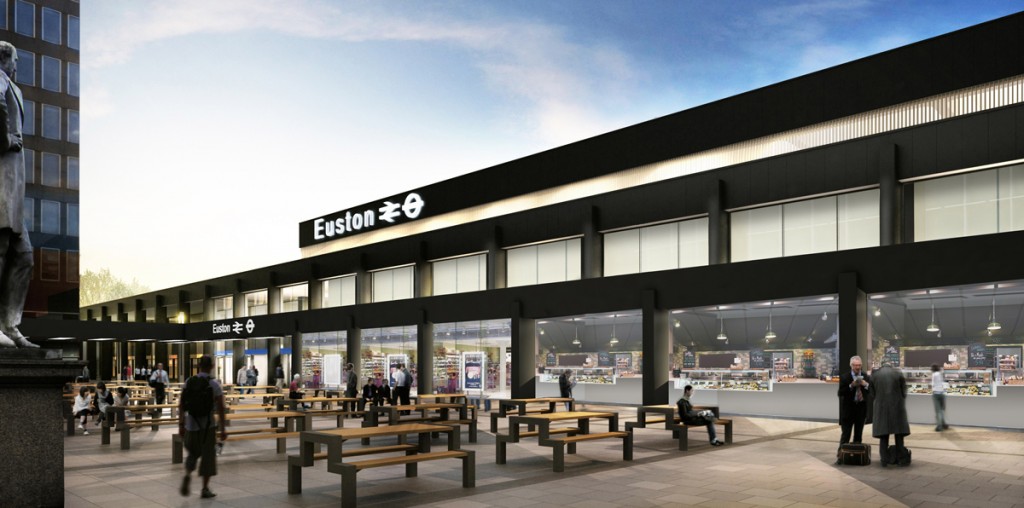 Passengers to have access to more space and choice following Euston Station redevelopment.
Passengers travelling to and from Euston Station in London will soon be able to access a bigger, better station with more shops and a wider choice of food and drink following a major £12.5M redevelopment which gets underway this month. 
The station currently serves more than 70M people every year and passenger numbers are growing faster than any of the capital's other terminus. The Network Rail development scheme will create more space both inside and outside which will provide passengers, local resents and workers in the area a better selection of shops and places to eat and drink. 
The first phase of works will see the piazza outside the station cleared of kiosks and replaced with 'grab and go' food units which will be incorporated into the front of the station. This will provide more space and a more pleasant atmosphere once the new units will open in summer 2015. 
Within the station there will be an 8,000sq ft balcony created which will feature a new bar, a selection of causal dining outlets and a comfy seating area which will overlook the main concourse. The balcony will be fully accessible via escalators, stairs and a lift. This is expected to open in late 2015. 
Phase two of the scheme will see the food court at the station converted into an improved and expanded retail area. This will offer a range of quality brands and will be accessible by the end of 2015. 
Hamish Kiernan, commercial retail director at Network Rail, said: "More than a million people use Euston station every week and this number is only set to grow further. Our plan for Euston will provide more space and a better atmosphere for passengers as well as an attractive mix of food, drink and shopping options for people travelling to or through the station.
"Our award-winning developments at King's Cross and Waterloo showcase what can be achieved at our major stations and now as we move our focus to Euston, we are confident we can create a bigger, brighter station for everyone."
The works have been planed in order to minimise disruption for passenger and users of the station whilst the contractors are at the site. The station will remain open and fully operational throughout.