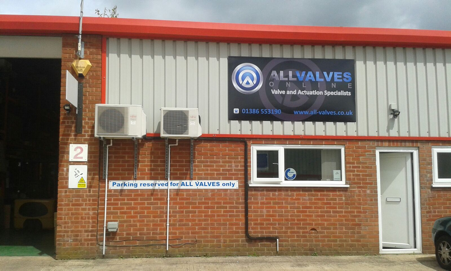 Allvalves Online Ltd, a UK valve and actuation specialist. Allvalves offer a wide range of products to service the process industry including, food and water, waste to energy, manufacturing and OEM businesses, water treatment, chemical, marine, hazardous area applications including biogas and AD plants.
Working with leading names in the industries that they operate in, Allvalves work with everyone from Veolia Water to Fox's Biscuits to 2 Sisters Food Group.
Specialising in the supply of manual and actuated valves, Allvalves work with the leading brands to ensure that their customers receive quality, quickly. All Valves export all over the world and offer a non stop service with the online chat system allowing out of hours communication with the guys here in the UK whilst offering an out of hours contact system to ensure a response is quickly provided the next day. Allvalves has used this to grow its export business and has now shipped to every continent.
Allvalves Online supply all the big names and brands in the industry from Gemu to FIP, EBRO to Stafsjo and Sun Yeh to J+J actuators.
Allvalves Online Ltd, specialising in industrial valves and process control products since 2012. Allvalves work within a large number of industries and processes supplying a variety of valves, actuators, pumps and pipe work equipment. Operating from the Midlands, Allvalves have fast become one of key suppliers to the process industry working with major food and drink producers, biogas plants and water treatment facilities. Offering a 'one stop shop' approach, Allvalves have separated themselves where possible from the competition. Offering a variety of products from a large selection of globally trusted brands, this making All Valves a rare thing in a congested market.
Supplying a wide range of ball valves, butterfly valves, check valves, globe valves, knife gate valves and strainers, Allvalves offer a large range of manual valves in many different shapes and sizes. Allvalves speciality is its valve automation offering. With stocked electric and pneumatic actuators, Allvalves are able to offer quick turn around on small to large quantities of actuated ball and actuated butterfly valve assemblies.
Allvalves Online also supply all over the world. Whilst the main target market is the UK, export is a key part to the business with big accounts and key customers in USA, China and Europe. The Allvalves website is key to this offering a live chat facility allowing our customers to talk to us in real time and receive quickly the answers to their questions.
Working the biggest names in the industry has always been the key to the success of the business. Allvalves working with the big names in the different sectors and applications that they work in. Allvalves are the UK agent for a number of brands including the exclusive agent for Sun Yeh electric actuators. Allvalves work very closely with Genebre, Hidroten and Adler valves and have done since 2012. Allvalves now work with other leading brands such as EBRO valves and STAFJSO knife gate valves.