Kier Starts Work on Devon GP Hub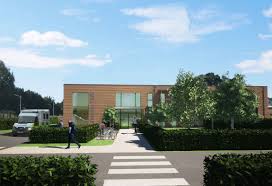 Kier has kicked off work at a new purpose-built health club in Crediton. To celebrate the start of construction, Kier held a socially distanced turf-cutting ceremony, with doctors from two GP surgeries that will merge following the construction of the Crediton GP hub.
Kier was appointed by Chiddenbrook and New Valley GP Practices. The new hub is to be funded by the NHS England Estates and Technology Transformation Fund (ETTF) along with Mid Devon District Council, and is set to improve the provision of health facilities for thousands of patients in the town.
The new GP hub will be an 'L' shaped building, with facilities based over two floors, including 16 multi-purpose clinical rooms and eight consultation booths for clinicians to speak to patients via telephone or video calling. There will also be training rooms for staff, offices and ample parking facilities.
The new building has been designed to provide a spacious and light environment, including a double height entrance atrium that will allow the reception area to be filled with natural light. The new building is situated on Joseph Lock Way and is due for completion in the Autumn of 2021.
Doug Lloyd, Operations Director for Kier Regional Building Western & Wales, stated: "We are proud to be delivering this vital new healthcare hub for the Crediton community. The new building will have purpose-built facilities that will help to serve the local community effectively for years to come."
Dr Harris commented: "Kier has been a supportive and enthusiastic partner in this venture and we feel sure they will provide us with a building that we are really proud of".
And Dr Peter Twomey added: "We know that the two practices in Crediton will be stronger and more resilient being together. This is an exciting time and a great opportunity to future-proof healthcare for the community we serve and to work collaboratively with all those involved in delivering the wider health and well-being agenda".
If you would like to read more like this, then please click here