Huddersfield town centre regeneration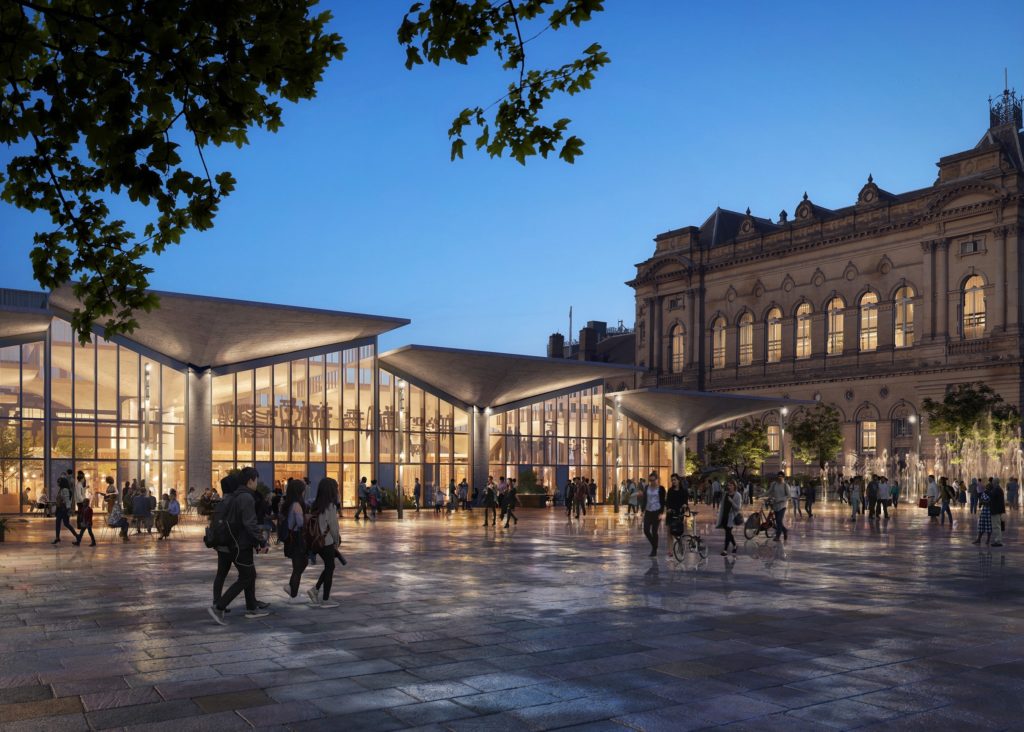 Plans have been submitted by Kirklees Council for the Cultural Heart project, which will completely revitalise Huddersfield Town Centre, create jobs and attract thousands of new visitors to the area.
Following several months of public consultation, full planning permission and associated applications for Listed Building Consents have been sought for the ambitious project, which is the flagship element of Kirklees Council's wider Huddersfield Blueprint – a ten-year plan to create a thriving town centre.
Kirklees Council has appointed an experienced team of expert development partners, led by strategic delivery partner Turner & Townsend, to ensure the Cultural Heart reflects the council and the community's vision and aspirations.
The global professional services company will provide cost management, project management, health and safety, procurement and contract services, and BIM.
Supported by a wider team which includes planning specialists Pegasus Group; architects, Feilden Clegg Bradley Studios; landscape architects Re-Form; technical and engineering firm, Arup; communications specialist, Counter Context; branding agency, DS Emotion; development managers, Queensberry, and sustainability engineers, Etude.
The application includes a substantial new public park, a new multi-purpose 2,200-capacity live entertainment and events venue and multi storey car park, an art gallery, the repurposing of the current library building to house a dedicated museum and the refurbishment of the historic Queensgate Market building to become a vibrant food hall and new library.
If approved, the existing Piazza Shopping Centre will be demolished while attractive, accessible outdoor public spaces will link the new developments together. The addition of 2.2 hectares of public realm space will increase opportunities for physical activity.
Councillor Graham Turner, Cabinet Member for Regeneration, said: "The Cultural Heart will be a game-changer for the town and for our district as a destination within West Yorkshire. Huddersfield has a rich cultural history and this vision of a thriving, revitalised town centre sets us up for a bright cultural and economic future too.
"It is a sustainable plan that will be fully accessible and inclusive to all. It is a world-class development that needs a world-class team to deliver it – the team we have assembled is more than up to the task."
Michael Grace, Director at Turner & Townsend, said: "We are delighted to see Kirklees Council submit this planning application, along with two listed building consent applications, which is a significant milestone in this transformative regeneration project.
"Working with the council and our partners, our team has worked extremely hard to create a high- quality multi-functional town centre scheme fit for the future.
"The proposal will reinvigorate Listed Buildings and spaces to create an inclusive, cultural centre that celebrates the district and embraces the viable use of the heritage assets within the site.
"We look forward to determination of the application and progressing further with this scheme."
Chris Calvert, Executive Director at Pegasus Group's Leeds office, said: "This has been an exciting project to work on and we are delighted to see the proposals reach this important next stage.
"The delivery team have used all of our collective experience and expertise to ensure the proposals deliver on the council's ambitions to boost the environment, the health of residents and the local economy, while sensitively incorporating Listed Buildings, giving them a longer term and viable future.
"We are confident that this proposal will be of huge benefit to the people of Huddersfield and beyond, who will have a new space in which to relax and gather, both during the daytime and the evening."
If you would like to read more stories like this, then please click here