BIM Progress & Adoption in the UK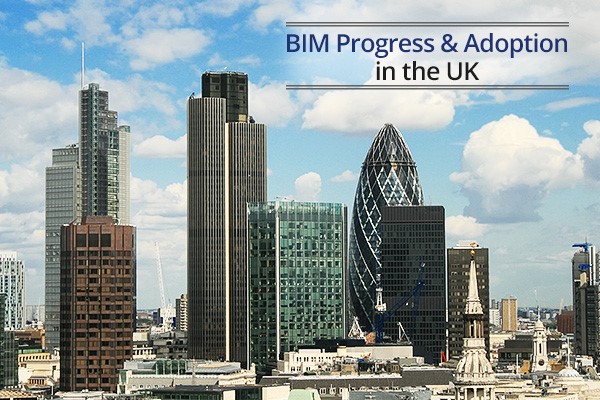 In the United Kingdom, the construction industry's path to modernisation has benefitted significantly with the adoption of BIM (Building Information Modelling) technology. Previous traditional methods in construction have been transformed with BIM services that can help established companies offer innovative services and add value to projects. One of the factors that have contributed to this transformation is the Government Construction Strategy of May 2011, which included a target of adopting the BIM Level 2 model for construction in government projects. BIM progress and adoption in the UK in the private sector has taken its cue from government directives, with a view to profitability.
Earlier, the construction process involved design that generated multi-stage drawings and specifications to contractors, from concept design to final construction, but the use of BIM technology changed this process by collating and collaborating with data and components to produce coordinated sets of information. The BIM process generates and manages data of built assets. Appropriate detailed data is created and used to make more informed decisions throughout the process of design and construction. The creation of the 3D model is intrinsic to the project's process, but equally important is the information hosted regarding the client's requirements, which is needed to develop and manage the project. The building information required and used could be 2D, 3D, 4D (time/scheduling data), 5D (cost data), 6D (facilities management data). A BIM model is created from groups of parametric components, such that any change in one part of the model will be replicated throughout the model. This model allows projects to be coordinated and virtually tested before construction.
Software
Popular software tools used in the BIM process are:
Autodesk Revit (Architecture/Structure/MEP)
Graphisoft ArchiCAD
Autodesk AutoCAD
Autodesk AutoCAD LT
Nemetscheck Vectorworks
Bentley Microstation
Trimble Sketchup (formerly Google Sketchup)
Bentley AECOsim Building Designer
BIM Levels of Development
Building Information Modelling has 4 broad levels, namely:
Level 0: Unmanaged CAD (Computer-aided Design)
Level 1: Managed CAD in 2D or 3D
Level 2: Managed 3D environment with data, but created in separate discipline models
Level 3: Single, online, project model with construction sequencing, cost and life-cycle management information
To explore what the BIM levels mean in more detail:
Level 0 BIM (Low collaboration)
This BIM level signifies low or no collaboration. Only 2D CAD drafting is used, mainly for production data. The output consists solely of paper and non-interoperable electronics, and it is considered the most basic step in the generating process. There is a negligible amount of cooperation. Even though 2D drawings are used in this level, generated information models are not shared.
Level 1 BIM (Partial collaboration)
In this level, 3D CAD for concept work and 2D drawings for drafting of approval documentation and production information are both utilised. Data is shared from a common environment, usually managed by a contractor. Several companies currently conduct their projects in this manner. A Common Data Environment, or CDE, is a shared online in an environment that hosts project data. Still, at this level, generated models are not available for all stakeholders.
Level 2 BIM (Greater collaboration)
All relevant stakeholders use 3D models but do not necessarily work on the same shared model. Design data is shared through a common file format, enabling the generation of a federated BIM model, which can then be checked for clashes. The UK government has set this BIM level as a minimum target for all government projects by 2016. Two new dimensions have been introduced at this level, 4D (time management) and 5D (budget calculation). The PAS 1192 directive specifies the conditions that need to be fulfilled to reach BIM Level 2. Though collaboration is important at this level, stakeholders can use their own CAD models, but a common file type must contain all design data, so that all relevant parties can view and modify data. At Level 2 BIM, models will be prepared by different design teams and will include documents and data files with detailed data regarding the facility, floors, spaces, systems and components. The UK government's push to see BIM Level 2 implementation on construction projects within a specified timeline indicates its resolve to promote this construction process.
Level 3 BIM (Full collaboration)
There is full collaboration between disciplines at this level. A single shared model hosted centrally enables all stakeholders to have access to the model and be capable of modifying any data. At this level, it is possible to eliminate conflicting data. One of the goals of the UK construction industry is to ultimately reach BIM Level 3 and attain full integration (iBIM) in a cloud-based environment. It is widely expected that a fresh dimension, 6D, will be added at this level. Generally understood to mean a complete focus on managing a building's entire life cycle, the 6D dimension is expected to progress the industry's end-to-end processes. Currently, doubts exist over the copyright and responsibility issues, but these doubts are expected to be cleared soon.
Government Policy in the UK
In May 2011, the Government Construction Strategy was published by the UK government. It stated that '. . . Government will require fully collaborative 3D BIM (with all project and asset information, documentation and data being electronic) as a minimum by 2016′. This meant that a minimum of Level 2 BIM was to be implemented on all government construction projects by April 2016. This requirement in the public sector led to an overall increase in the adoption of BIM processes, propelling BIM usage levels in the UK to match those in Singapore, the US and Scandinavia. Architects and large contractors in the UK have adopted BIM usage and technology with greater enthusiasm than services engineers, facilities managers and smaller contractors.
In March 2016, the UK government's budget made mention of a further commitment to the adoption of Level 3 BIM usage in the future. In 2017, it was reported that in a survey conducted by a leading construction player, 62% of surveyed participants knew about and used BIM.
Future of BIM in UK Construction
As a steadily increasing number of firms move to Level 2 BIM adoption in the UK, the government is planning on advancing to Level 3 BIM adoption, which will have the following benefits for UK construction:
Productivity Boost – When information is shared in an easier and faster way, productivity is bound to increase. Time spent on editing and reworking changes can be reduced with collaboration. With the increase in productivity, costs will be lowered and therefore projects will be planned with greater efficiency.
Increased Data Handling – Effective management of vast amounts of data can change the work methodology of contractors and engineers, and it is even possible that there will be a higher demand for more data.
Greater Role for Smaller Markets – The BIM process has been shown to optimise the construction process. Markets which, so far, did not possess the right tools for expansion can in future be effectively developed with BIM compliance. With a collaborated model, more challenges that occur on a daily basis can be dealt with.
Higher Quality – Effective management of detailed information is expected to result in higher quality buildings. More complex buildings with more facilities are expected to be designed and built in the future. More environmental considerations can also be considered with the adoption of advanced BIM levels.
Improved Clash Detection – BIM software tools are noticeably adept at detecting clashes, and as a result, the efficiency of the project will improve.
In general, the adoption of BIM technology enables UK firms to be increasingly modern, collaborative and open, clearly advancing from its traditional and linear methodology, but a more widespread use of BIM technology would need firms to:
Overcome reluctance – Traditional processes must be dealt with on both digital and cultural fronts;
Recognise that there is an issue to resolve;
Alter the definition of success and how it is measured;
Drive change;
Modernise
For the UK construction industry to improve productivity and keep up with the standards of global modernisation, even traditionalists in the field must adopt cloud, mobile, social and collaborative tools. Increasingly, the focus is on developing a future with intelligent buildings, smart infrastructure and sensor-driven environments. Autonomous vehicles and artificial intelligence are gaining ground, with the Internet of Things, 3D printing and robotics expected to significantly influence the UK construction industry. The industry needs professionals with trade skills, new ideas and digital proficiency to develop innovative technologies. The adoption of BIM technology and use of BIM services is just a small step in this advancement.