How spatially coordinated BIM models address challenges of MEP professionals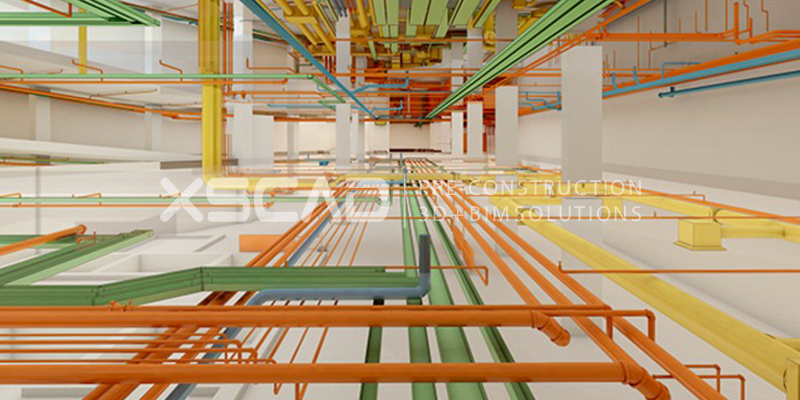 With the introduction of Building Information Modelling (BIM), there is a notable change in the industry and a huge opportunity for MEP designers and consultants to reduce rework and improve the output. BIM makes real-time spatial coordination a reality at the initial stage of the design process rather than only at the construction stage.
As MEP (M&E) BIM is widely adopted in the industry, this model-based approach has a positive impact and is increasing in importance. While BIM has resulted in higher expectations from clients and an entire revamp of the social dynamics in the AEC industry, by providing access of project data to a more number of first-time project stakeholders, it improves the efficiency of the construction process and is economically beneficial. A spatially coordinated MEP BIM model (SCMBM) helps you detect clashes, reduce rework and provides you with actionable insights and MEP documentation which can facilitate communication and clash-free installation and implementation of MEP systems.
To understand the importance of a spatially coordinated MEP BIM model and how it could address your challenges as a MEP professional, the following aspects must be considered:
Communication of spatial coordination issues – A spatially coordinated MEP (M&E) BIM model is data-rich and facilitates the exchange of information collaboratively. By communicating modifications in design and issues in spatial coordination, you can develop design solutions which are site-ready, profitable and economical.
Early identification of constructability issues – With a spatially coordinated BIM MEP 3D model, you can envision the design intent and visualise the systems and building design. Particularly in site-critical projects, 3D schematic models would help you deal with constructability issues earlier in the design process.
Reorganisation of the documentation process – The conventional process of documentation typically involved recording of schedules, plans, drawings, elevations and sections in tables and spreadsheets, leading to discrepancies during construction on site. With MEP BIM Modelling, the updates and modifications you make will be reflected in documents and the schedules and drawings are reflected in the BIM model. Streamlining of the documentation process by using a MEP BIM model, not only reduces project turnaround time it will help you maintain consistency between models and plans.
Clash-free implementation of HVAC, piping and electrical systems – BIM modelling ensures clash-free implementation by enabling your MEP team design coordinated models of equipment and routing of systems. A spatially coordinated MEP BIM model facilitates communication of MEP design changes across project stakeholders ensuring routing of systems and implementation is free of issues.
A BIM-based environment helps in improving the construction process. While adding MEP elements was unthinkable earlier, with MEP BIM models you can address spatial coordination issues in the initial stages of the MEP design process. To enhance your design process and deliver BIM and spatially coordinated models, the challenge is now to ensure that you have the skills and resources to use BIM tools optimally and strategically, to deliver projects on time, on budget, per building codes.
At XS CAD, we provide comprehensive mechanical, electrical, public health and fire protection building services design support for all stages of the design process from concept, schematic, design development, tender and construction stages, to building services designers and consultants. Our LEED accredited team of BIM modellers, BIM coordinators and MEP designers in India, have extensive design experience and utilise BIM as an effective design tool. By utilising the latest BIM technology from Autodesk (Revit MEP) we can provide Revit MEP spatial coordination, manufacturing and prefabrication drawings for all building services such as HVAC, mechanical pipework, fire protection, electrical and plumbing. To find out how you can use sophisticated, spatially coordinated MEP BIM models to strategically improve your MEP design process, contact us.